WASHINGTON (CNN) -- Former President George Bush should have pardoned Lewis "Scooter" Libby, Dick Cheney said after stepping down as vice president this week.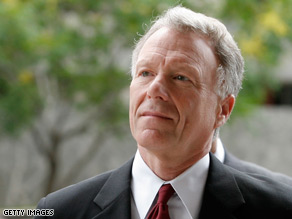 Lewis "Scooter" Libby was convicted of lying to a grand jury and investigators in 2007.
"He was the victim of a serious miscarriage of justice, and I strongly believe that he deserved a presidential pardon. Obviously, I disagree with President Bush's decision," Cheney told Stephen F. Hayes of the Weekly Standard, a leading conservative Washington magazine.
Libby, Cheney's former chief of staff, was convicted of obstructing a federal investigation into the revelation that Valerie Plame Wilson was a CIA agent.
He was sentenced to 30 months in prison and fined $250,000. Bush commuted the sentence, which he called "excessive." But he did not pardon Libby, much to the aggravation of many influential conservatives.
Unlike a presidential pardon, which wipes a person's crimes off the books, Bush's commutation of Libby's sentence only means that he does not have to serve the prison sentence. He is still considered guilty of the crime of which he was convicted.
Hayes said that Cheney had publicly disagreed with Bush only four times in the eight years of the Bush administration. They were out of office for only a day before this disagreement surfaced.
Bush granted 189 pardons and 11 commutations during his eight years in office, far fewer than Presidents Bill Clinton and Ronald Reagan in their two-term administrations.
No one was ever charged with leaking Plame Wilson's identity. She and her husband, former diplomat Joseph Wilson III, said the revelation was a retaliation for Wilson claiming a key justification for the invasion of Iraq was false.
It ultimately came out that former Deputy Secretary of State Richard Armitage had told journalist Robert Novak about Plame Wilson working for the CIA. Top Bush adviser Karl Rove confirmed it.
E-mail to a friend

CNN's Ed Hornick contributed to this report.
All About Dick Cheney • Lewis Libby