By Mark Preston
CNN Political Editor






WASHINGTON (CNN) -- It was a beautiful autumn day when I bumped into Sen. Joe Biden outside the U.S. Capitol, and I was desperately looking for information about questions that at the time were unanswerable.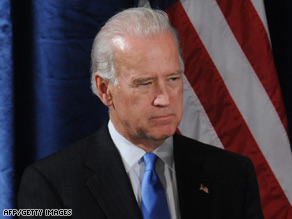 Joe Biden has long been a fixture on Capitol Hill and now assumes the role of vice president.
People were fleeing the Capitol and scattering in different directions. They were headed anywhere but there -- except for Biden.
At the time, I was working for the Capitol Hill newspaper Roll Call, and I stopped and asked him "What do you know? You're the chairman of the Senate Foreign Relations Committee." He paused and said, "Let's talk down there," pointing to a location farther down the hill. "I was just told by the Capitol Police that there is an inbound plane headed for the Capitol."
That fateful day was September 11, 2001.
Biden didn't have answers at that moment, but it didn't take long for us all to find out what had happened.
Over the years, I have been struck by Biden's willingness to continue a conversation even though he had just been told that an airplane had been turned into a missile and was headed to the Capitol.
It is well known in Washington that Biden likes to talk. And talk and talk. For the longest time, I thought he just wanted to continue talking that morning.
In times of crisis, some people like to talk things out. It calms their nerves, I guess. I have since come to realize that while there might be some truth to this, it is also true that Biden wasn't going to run away from the situation. He wanted to be in the mix of things. And Biden was not going to abandon the only home he has known in Washington: the Senate.
Don't Miss
Last week, he did walk away from the Senate, but on his own terms. He is now the vice president, and he will move into a new home at the Naval Observatory. In his farewell speech last week, Biden made it clear that while he was saying goodbye, he would not forget his roots.

Watch Joe Biden become vice president »
"I may be resigning from the Senate today, but I will always be a Senate man," he said. "Except for the title 'father,' there is no title, including vice president, that I am more proud to wear than that of a senator of the United States."
He is now the vice president, but what will his role be in the Obama administration?
Two of his Senate colleagues, Hillary Clinton and Tom Daschle, will wield considerable power over foreign policy and health policy, respectively, if confirmed by the Senate. And Obama has rounded out his Cabinet with other like-minded experts that would seem to call into question Biden's influence over other major issues.
But Biden claims he wants more responsibility than past vice presidents, and in a recent interview with The New York Times, he said he wants to help Obama make the tough calls.
"I want to be the last guy in the room on every important decision," he said.
That is understandable. After 36 years on Capitol Hill, including stints as chairman of the Foreign Relations and Judiciary committees, Biden wants to be a decision maker, not just an implementer.
Still, Biden's true strength might just be his experience in Washington, where he has fostered relationships for more than three decades. And looking ahead at potential challenges for Obama over the next four years, one needs to look no further than his own party.
For the better part of his two terms, the Bush administration dictated the legislative agenda to congressional Republicans, and at times they grudgingly helped the president implement it.
Democrats were closely watching and have made it clear that won't happen to them. Senate Majority Leader Harry Reid, D-Nevada, shot up a warning flare on this issue when the 111th Congress opened up for business earlier this month. Reid told three Capitol Hill newspapers that he is not going to work for Obama, but will work with him.
Enter Biden.
Even though Obama himself was a senator, he did not serve long enough to build the same strong bonds of trust and friendships that Biden has developed over the years.
Biden could assume the role as chief emissary to the Senate -- to Republicans and Democrats alike. A thankless job at times, but nevertheless an extremely important one that could help make or break Obama's presidency. Obama needs Congress on his side.
In his tribute to Biden on his last day in the Senate, Sen. Robert Byrd, D-West Virginia, all but asked his departing colleague to assume this role.

"I can see him now, putting the White House on notice, and defending the advice and consent authority of senators," Byrd said in a Senate floor speech. "Joe has seen how this part of the government -- the people's branch -- lives. He will assume his new job fresh from membership in the world's greatest deliberative body. Those Senate years will, I believe, serve him, the country and the people well."
One of Obama's greatest assets might simply be that Biden is a "Senate man" -- respected by both Democrats and Republicans. Relationships and trust go a long way in Washington.
E-mail to a friend

All About Joseph Biden • September 11 Attacks