By Deirdre Walsh
CNN Congressional Producer





WASHINGTON (CNN) -- House Republican leaders have asked for a meeting with President Obama on Thursday to offer major changes to the $825 billion economic recovery package urged by the president and proposed by House Democrats last week.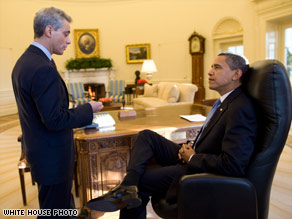 On his first complete day in office, President Obama talks with White House Chief of Staff Rahm Emanuel.
"The challenge as we see it is to create a plan that helps middle-class taxpayers and small businesses without wasting money or exploding our national deficit," the leaders wrote in a letter to the new president. "We believe the economic recovery plan should primarily create real, long-term jobs, encourage entrepreneurs, and help average Americans keep more of their money to save and invest."
Rep. Paul Ryan, the top Republican on the House Budget committee, slammed the Democrats' proposal.
"We can do better than this. We have to do better than this. This bill is not worthy of our new president's signature," he told reporters Wednesday.

Watch what issues Obama must face immediately in office »
The Wisconsin Republican said the main tax provision in the Democrats' plan -- cutting payroll taxes -- was not an effective way to jump-start the economy.
Ryan said the bill should be aimed at creating jobs in 2009, and cited a GOP analysis of the plan that finds that more than 90 percent of the spending doesn't occur until 2010 or later.
Republicans want a greater focus on incentives for businesses to create more jobs, instead of direct spending on infrastructure projects.
The Democratic proposal was created at Obama's urging. Last week, Obama said the plan will save or create up to 4 million jobs and invest in health care, energy and education, among other priorities.

House Republican Conference Chairman Mike Pence declined to say whether the Democrats' package would get any Republican support if it didn't change significantly.
Pence said Obama told him at the luncheon after the inauguration Tuesday he wanted to discuss a broad range of issues with House Republicans.
E-mail to a friend

All About Barack Obama • Paul Ryan • U.S. House Republican Conference