WASHINGTON (CNN) -- Sen. Ted Kennedy "left the hospital this morning as expected, his spirits are good, and doctors want him to get some rest," a Kennedy aide said Wednesday.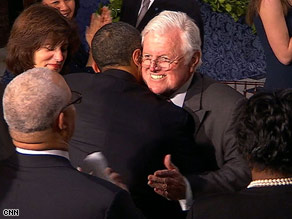 President Obama greets Sen. Edward Kennedy at the Tuesday luncheon in the Capitol.
The aide added that Kennedy is expected to rest at home and not return to Capitol Hill on Wednesday.
Kennedy suffered a seizure Tuesday during a luncheon for President Obama in the U.S. Capitol's Statuary Hall.
Dr. Edward Aulisi, chairman of the neurosurgery department at Washington Hospital Center, said Kennedy's doctors "believe the incident was brought on by simple fatigue."
"Sen. Kennedy is awake, talking with family and friends, and feeling well," Aulisi said Tuesday.
Paramedics were called to the Capitol at 2:35 p.m. ET. An ambulance took Kennedy to Washington Hospital Center.
A Republican House member said Kennedy was still experiencing seizures when he was put in a wheelchair and taken out of the room where the luncheon was being held.

Watch how tumors can affect the brain »
Sen. John Kerry, the junior senator from Massachusetts, accompanied Kennedy to the hospital. He told reporters Tuesday that Kennedy was alert and in good spirits.
"He has his Irish up," Kerry said. "Ted Kennedy is going to be back in the Senate fighting for the things he cares about."
Kerry quoted Kennedy's wife, Vicki, as saying, "It just goes with the territory."
"It is part of the battle he is fighting," Kerry said.
Kennedy, 76, also suffered a seizure in May 2008, while walking his dogs at his home in Hyannisport, Massachusetts.
Three days later, Kennedy's doctors at Massachusetts General Hospital in Boston said preliminary results from a brain biopsy showed a tumor in the left parietal lobe was responsible for the seizure.

See more on malignant brain tumors »
In June 2008, Kennedy underwent a 3½-hour operation at Duke University Medical Center in Durham, North Carolina, to remove the malignant tumor. Surgeons had reported that the surgery was a success and that Kennedy should suffer no permanent damage from the procedure.
Kennedy's follow-up treatment plan was to include radiation and chemotherapy.
Obama mentioned Kennedy's condition while speaking at the luncheon.
Kennedy "was there when the Voting Rights Act passed," the new president said. "Along with John Lewis, [he] was a warrior for justice.
"And so I would be lying to you if I did not say that right now, a part of me is with him. And I think that's true for all of us. This is a joyous time. But it's also a sobering time, and my prayers are with him and his family and Vicki."
The senior Massachusetts senator, patriarch of one of the leading families of American politics, is a staunch supporter of Obama.

See a closer look at Kennedy »
Kennedy is the brother of President John F. Kennedy, who was assassinated in Dallas in 1963, and New York Sen. Robert Kennedy, who was assassinated while seeking the White House in 1968.

Kennedy was first elected to the Senate in 1962.
Also during the luncheon, Sen. Robert Byrd, D-West Virginia, appeared to be experiencing some difficulty. Byrd, 91, was distraught over the incident involving Kennedy, a spokeswoman for the West Virginia senator said. She noted, however, that Byrd later had recovered enough to return to his Senate office.
E-mail to a friend

CNN's Jeanne Meserve contributed to this report.
All About Edward M. Kennedy