Editor's note: Campbell Brown anchors CNN's "Campbell Brown: No Bias, No Bull" at 8 p.m. ET Mondays through Fridays. She delivered this commentary during the "Cutting through the Bull" segment of Wednesday night's broadcast.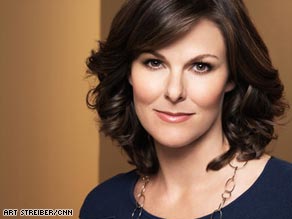 CNN's Campbell Brown says she's a little gun-shy about President Obama's promise.
(CNN) -- Now, cutting through the bull, and to hear President Obama talk, that's exactly what he is vowing to do. He announced Wednesday what he called a new era of openness.
President Obama: "The way to make government responsible is to hold it accountable and the way to make government accountable is to make it transparent. I will also hold myself to a new standard of openness."
Sounds good to us as long as President Obama really means it, and frankly we're a little gun-shy, given how transparency was viewed by the previous administration.
But so far, this new president seems to be taking the right steps.
As he outlined Wednesday, he is expanding the release of documents under the Freedom of Information Act, which, among other things, allows journalists and everyone else to uncover what our leaders are really doing.
He pledges to force himself, as well as previous presidents who may want to keep certain information confidential, to first make a case for why the information can't be public to the attorney general and the White House counsel.
'No Bias, No Bull'
Get the latest on the day's main events.
8 ET Monday through Friday

He is also tightening the rules on lobbyists and capping salaries for top White House staffers -- all moves aimed at greater government accountability. Accountability and transparency are two of our favorite words.
And we do recognize that greater transparency, especially, must take into consideration personal privacy and risk to national security.

But in our view, this is a great way to start: as the president promised Wednesday, bringing some light to the dark corners of Washington -- even if it means showing that government doesn't have all the answers.
The opinions expressed in this commentary are solely those of Campbell Brown.
E-mail to a friend

All About Barack Obama