By Lisa Respers France
CNN





(CNN) -- In keeping with the theme that swept President Obama into the Oval Office, change has come to the official White House Web site.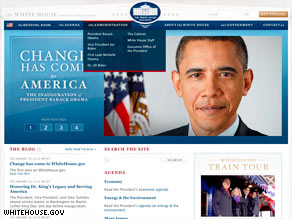 President Obama's official White House Web site launched during his swearing-in ceremony.
Almost at the instant Obama was sworn in, www.whitehouse.gov relaunched with a redesign to signal a new era in government. Gone was the staid site of the Bush White House, replaced by a dynamic new site reflective of his tech-savvy successor.
The new design includes more interactive features, a prominent photo gallery displayed across the top of the site, the ability to get e-mail updates, and a White House blog. The site's "briefing room" also includes places for a weekly video address, slide shows, proclamations, and executive orders as well as news about nominations and appointments.
"It's a great first step, and the tip of the iceberg in what's coming with participatory politics and the relationship between the president and the public," said Andrew Rasiej, founder of the Personal Democracy Forum and co-founder of techPresident.com.
Visitors to the site are invited to e-mail the president and his staff, although -- perhaps in a nod to the Twittersphere, where brevity is key -- comments are limited to 500 characters.
"President Obama is committed to creating the most open and accessible administration in American history," states the site's Contact Us page.
In introducing the new site, White House Director of New Media Macon Phillips wrote in the blog's initial entry that Obama's online efforts will center on communication, transparency and participation.
Watch with CNN
Watch the historic inauguration of Barack Obama with CNN and the best political team on TV
Live coverage all day

"Millions of Americans have powered President Obama's journey to the White House, many taking advantage of the Internet to play a role in shaping our country's future," he wrote. "WhiteHouse.gov is just the beginning of the new administration's efforts to expand and deepen this online engagement."
Obama was hailed throughout his campaign and transition as a politician who makes clever use of technology to communicate his message. His campaign leveraged social-networking sites, and even the most casual texter could sympathize with his resistance to giving up his BlackBerry.
Diane Heith, an associate professor of government and politics at St. John's University in New York City, wrote a scholarly article about then-candidate Obama's Web site last year, where she noted its superiority to the other campaign sites. The new White House site is clearly a continuation of his commitment to engage with citizens, she said.
"During the campaign, Obama supporters felt very connected to him, and if they can maintain that connection, it will do a lot to amass the base he is going to need moving forward," she told CNN. "The old site [from the Bush administration] really was not an exciting Web site, and it didn't have a tremendous amount of depth or information. [Obama's] site is much more sophisticated."
Don't Miss
David Parry, assistant professor of emerging media at the University of Texas at Dallas, said the new site continues the theme of Obama's awareness of the importance of Web 2.0, which empowers users to share online content.
"I think it's one of the key reasons he was elected, and now they are using it as a means to go to the people and communicate," he said. "This site feels more personal and certainly looks more polished, whereas the [Bush] site looked more transitional."
WhiteHouse.gov is not to be confused with WhiteHouse.org, a spoof of former President George W. Bush and his administration.
E-mail to a friend

All About Barack Obama • The White House