By Bill Schneider
CNN Senior Political Analyst





WASHINGTON (CNN) -- President Obama's inaugural address was cooler, more measured and reassuring than that of other presidents making it, perhaps, the right speech for the times.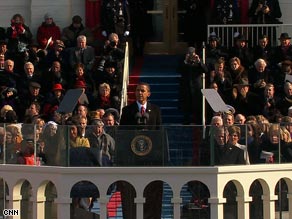 President Obama renewed his call for a massive plan to stimulate economic growth.
Some inaugural addresses are known for their soaring, inspirational language. Like John F. Kennedy's in 1961: "Ask not what your country can do for you. Ask what you can do for your country.''
Obama's address was less stirring, perhaps, but it was also more candid and down-to-earth.
"Starting today,'' the new president said, "we must pick ourselves up, dust ourselves off and begin the work of remaking America.''

Watch Obama's inaugural address »
At a time of crisis, a president needs to be reassuring. Like Franklin Roosevelt, who said in his first inaugural in 1933, "The only thing we have to fear is fear itself.'' Or Bill Clinton, who took office during the economic crisis of the early 1990s. "There is nothing wrong with America that cannot be fixed by what is right with America,'' Clinton declared at his first inaugural.
Obama, too, offered reassurance.
"We gather because we have chosen hope over fear, unity of purpose over conflict and discord,'' Obama said.
Obama's call to unity after decades of political division echoed Abraham Lincoln's first inaugural address in 1861. Even though he delivered it at the onset of a terrible civil war, Lincoln's speech was not a call to battle. It was a call to look beyond the war, toward reconciliation based on what he called "the better angels of our nature.''
Some presidents used their inaugural address to set out a bold agenda.
Don't Miss
At his first inaugural in 1981, Ronald Reagan said, "Government is not the solution to our problem. Government is the problem.'' George W. Bush defined the essence of the neoconservative agenda when he said at his 2005 inaugural, "The survival of liberty in our land increasingly depends on the success of liberty in other lands.''
President Obama did talk about having "big plans.'' But he insisted they be practical.

Watch the CNN political team assess Obama's speech »
"The question we ask today is not whether our government is too big or too small,'' Obama said, "but whether it works.''
Obama certainly knows how to be stirring. And he was at least once in his inaugural address when he talked about his new approach to diplomacy.
"To those who cling to power through corruption and deceit and the silencing of dissent, know that you are on the wrong side of history,'' Obama declared, "but that we will extend a hand if you are willing to unclench your fist.''
Are you listening, Iran?

Obama's was a cool speech, not a hot speech. That's what a lot of people like about the new president. He's reassuring -- "No-Drama Obama.''
At a time of mounting national anxiety, cool is good.
E-mail to a friend

All About U.S. Presidential Inauguration • Barack Obama