(CNN) -- The mayor of Portland, Oregon, publicly apologized Tuesday for lying about a sexual relationship he had with an 18-year-old male in 2005, and for asking the teen to lie about it.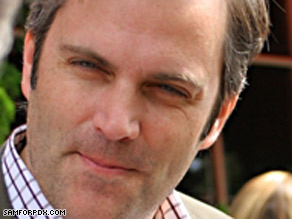 "This was a serious error that happened about four years ago," Portland Mayor Sam Adams tells reporters.
"I want to apologize to the people of Portland for my dishonesty and for embarrassing them," Mayor Sam Adams, a Democrat, said at an afternoon news conference.
But the mayor -- who is openly gay and whose election last year possibly made Portland the largest U.S. city to elect an openly gay mayor -- said he has no plans to resign.
"This was a serious error that happened about four years ago," Adams said. "My job now is to come clean -- I mucked it up -- and to press forward."
Adams returned to Portland from Washington, where he had planned to attend the inauguration of President Barack Obama, to hold the news conference.
A day earlier, Adams issued a statement saying: "In the past, I have characterized my relationship with Beau Breedlove as purely nonsexual. That is not true. Beau Breedlove and I had a sexual relationship for a few months in the summer of 2005 after he turned 18 years of age."
Adams issued the statement Monday after a local newspaper, the Willamette Week, published a story about the relationship between Adams, who was a city commissioner in 2005, and Breedlove, then a legislative intern.
During the mayoral campaign, questions had emerged about whether Adams and Breedlove had a sexual relationship. Adams said he had lied about the relationship during the campaign, and had asked Breedlove to lie, because of "untrue rumors being circulated saying that I had broken the law regarding sex relations with a minor."
"The allegation coming at me was 'sex with a minor,' " Adams said. "But still, I should have told the truth at the time and taken the consequences."
The relationship was consensual and "although inappropriate, was legal," Adams said.
"I'm the one that should be held accountable. I'm the older adult," he said.
Adams was 42 and Breedlove was 17 when the two met, according to the Willamette newspaper.
Adams emphasized that what he called a "romantic" relationship with Breedlove did not begin until after Breedlove was 18.
Adams said the two had "maybe three or four dates" over two or three months in 2005 before the relationship ended.
The mayor apologized to Breedlove for asking him to lie, and to Portland's gay community "for embarrassing them." It was not clear whether Breedlove was in attendance at Tuesday's news conference.
Adams said that "this is fundamentally an issue of a public official lying."
"I don't think this fundamentally is an issue about sexual orientation," he said. "Other people can debate that but, for me, it's about an error in judgment and then seeking to make amends for that and being very up-front about the mistake and then carrying on," he said.
Asked by a reporter if he lied to get elected, Adams said: "I definitely lied to avoid what I thought was another lie that I couldn't overcome. So, in a way, yes."
Asked if he had thought he could get away with lying, Adams responded: "I think that's going to be up to my colleagues and the people of Portland."
E-mail to a friend

All About Portland (Oregon)