(CNN) -- Barack Obama's inauguration as the 44th U.S. President has been accompanied by celebrations around the world.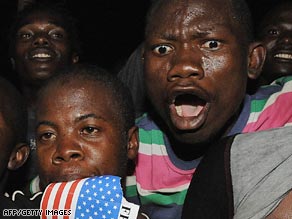 People celebrate in Kisumu, Kenya, following President Obama's inauguration
In Kogelo, Kenya, the birthplace of Obama's father, villagers danced and sang in praise of the man they call "Our Son" with the many tourists, local and national, who had traveled to be there for the event.
From London, England to Seoul, South Korea, U.S. expats and local citizens watched live streams of the ceremony in bars, restaurants and community halls.
Troops in Forward Operating Base Kalsu, south of Baghdad, gathered in the dining hall to watch the proceedings. U.S. Army Staff Sergeant Beverlee Burton of Cleveland, Ohio, cried and applauded as President Obama was inaugurated.

In Japan, people partied in the city of Obama, and in Paris, France, expats gathered at a bar to watch the historic inauguration.
But in Iran, the atmosphere was muted: local media have remained silent on the inauguration itself.
E-mail to a friend