By Kristi Keck
CNN





WASHINGTON (CNN) -- Washington residents are bracing for the estimated 2 million people flocking to Washington to see Barack Obama's inauguration Tuesday.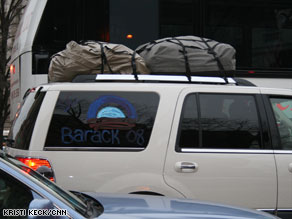 A car decorated with support for Obama moves through the capital.
Road closures, tourist-flooded streets and long lines for, well, everything, mean locals will have to be patient.
"You just have to give yourself a little extra time when everything's going on so you don't get caught up in it," said Aisha Williams, who works at a camera shop off Pennsylvania Avenue.
She plans to arrive at work at 4:45 a.m. on Tuesday -- more than 5 hours before the store opens -- to avoid the traffic.
Her co-worker, Ken Kwiatkowski, is doing more than that. He stayed in a hotel for the past two nights in order to avoid a congested 20-mile commute from Springfield, Virginia. He's going home later Monday and avoiding work altogether on Tuesday.
It's not just their schedules they have to change. The Secret Service has stopped by "more than I care to see," Williams said, to tell them what they can and cannot sell during the inauguration. As a security precaution, vendors have had to remove backpacks, picture frames and some types of cameras.
Alecia Cole, who lives just outside of Washington said she and her husband are "getting out while the getting's good."
"We're actually leaving town," Patrick Cole said. "There's going to be too many people here, and I'd rather just let them have their fun, and I'll come back when it's over."
But not everyone is as easygoing. On a flight from Atlanta, Georgia, to Washington on Sunday morning, one woman burst into tears as she found out not all of her relatives would be seated on the overcrowded plane.
As the flight attendant pointed out how busy they were with the inauguration, the woman made it quite clear she didn't care about the inauguration; she was just trying to get home for work.
Getting to Washington is one thing, but navigating the city is another. On Sunday night, crowded streets gave a glimpse of the inconveniences that are bound to grow as more visitors arrive.
Sidewalks and restaurants were packed near the National Mall and those hoping to go to their neighborhood Starbucks might want to think again -- the line was to the door on the 1100 block of Pennsylvania Avenue. A sign in the window said the store will be open round the clock on Monday.
Watch with CNN
Watch the historic inauguration of Barack Obama with CNN and the best political team on TV
Coverage begins Tuesday, 10 a.m. ET

One woman passing by made a comment about the crowds and said she's never seen it like this during past inaugurations.
The crowd expected Tuesday would smash the current inaugural record, set in 1964 when 1.2 million people came to see Lyndon B. Johnson take the oath of office. About 300,000 showed up for George W. Bush's first inauguration, and about 800,000 turned out to see Bill Clinton's first swearing-in ceremony, according to various estimates.
Washington's Metrorail is expanding its hours, starting service at 4 a.m. on Inauguration Day.
"We expect that our stations, trains and buses will be packed as people head to the Inauguration, and we expect to see even more crowded conditions afterward," Metro General Manager John Catoe said on the Metro's Web site. "People should plan to wait in long lines to get back into Metro stations after the Inauguration, at least for an hour or more."
People will likely opt for the Metro, because two of the major routes coming into the city, I-395 and I-66, will be closed to inbound traffic for private vehicles.
And for those coming from Virginia, all of the bridges to Washington are going to be shut.
Amtrak, charter buses and taxis are other options for those planning to attend.
As stressful as the travel situation may be, people like Kwiatkowski are enjoying the hustle while it lasts and taking solace in knowing that Wednesday may bring calm.
"It's all worth it," he said. "It's historic, it's very busy and I get to meet so many nice people."
E-mail to a friend

CNN's Ed Hornick contributed to this report.
All About D.C. Metro Area • U.S. Presidential Inauguration • Barack Obama