By Larry King
CNN





WASHINGTON (CNN) -- Did you think you'd see an African-American elected president in your lifetime? I've asked a lot of people that question since November 4.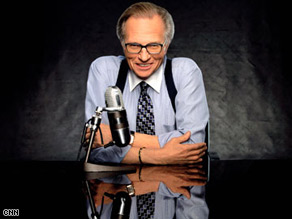 Larry King says no one will ever need to ask if an African-American can be elected president.
Some -- especially the kids -- told me, "Heck yeah! Absolutely!" Some just said "I hoped." Others answered flat out: "No. I never expected to live to see the day." And a few simply choked up, and I knew, they were remembering....
It's April 15, 1947, and the place is Ebbets Field. Jackie Robinson breaks Major League Baseball's color barrier, playing for the Brooklyn Dodgers. I was 13 years old, and I was there.
I later interviewed Jackie Robinson, three times, and he was a great athlete and an even greater man. But on that historic day, while I believed in equality on the ball field, the idea of a black man in the White House never really entered my head.
I went to Florida in the '50s to break into broadcasting, and at the train station in Miami, I saw separated water fountains. I drank from the one marked "colored." The bus into town had a sign that read "Negroes in the back." That's where I sat.
As the '50s became the '60s, I interviewed every major leader in the civil rights movement, including a young preacher named Martin Luther King Jr.
I was with him when he tried to integrate a hotel in Tallahassee, Florida. "What do you want?" the hotel manager demanded. "My dignity," King said.
Watch with CNN
Watch the historic inauguration of Barack Obama with CNN and the best political team on TV.
Coverage begins Tuesday, 10 a.m. ET

Cut to August 28, 1963. King shared his hopes for the future from the steps of the Lincoln Memorial. But did he really dream -- in his heart of hearts --that America would elect a black president less than five decades later?
I remember President Lyndon B. Johnson signing the Voting Rights Act in 1965. I also remember the Watts neighborhood in Los Angeles, California, erupting in riots less than a week later, with heat and racial hostility consuming hope. The murder of King in 1968 came with blood and burning.
For some I interviewed, it seemed the dream was in ashes. For others -- Stokely Carmichael, Muhammad Ali, Harry Belafonte, Sammy Davis Jr. -- the dream survived, but in different forms.
In the 1980s I watched the Rev. Jesse Jackson's presidential bid begin to change the political landscape; I was there in Atlanta, Georgia, for his 1988 convention speech. As the country moved into the 21st century, black men did sit in the Oval Office -- but only in the movies and on TV.
Then came July 27, 2004. I was on the Democratic Convention floor in Boston, Massachusetts, when an obscure politician from Illinois keynoted his way into history.
I didn't need to ask who Jackie Robinson was, or what he meant, the first time I saw him play in Ebbets Field; I knew. But I did need to ask it when Barack Obama took the stage. Who is this guy?
His speech gave me some clues.
Don't Miss
I got more from his campaign and the ultimate answer came on November 4: Barack Obama is the man the American people have elected as their 44th president. I've lived to witness it, and on Inauguration Day, I'll be in our nation's capitol to see him sworn in.
My two youngest sons, Chance and Cannon, are about the same ages as the Obama girls, Sasha and Malia. I expect my boys will be asked a lot of questions in the years ahead, but the one about seeing an African-American elected president in their lifetime? That question, they'll never have to hear.
The opinions expressed in this commentary are solely those of Larry King.
E-mail to a friend

All About Barack Obama • Martin Luther King Jr. • Civil Rights