Editor's note: Campbell Brown anchors CNN's "Campbell Brown: No Bias, No Bull" at 8 p.m. ET Mondays through Fridays. She delivered this commentary during the "Cutting through the Bull" segment of Monday night's broadcast.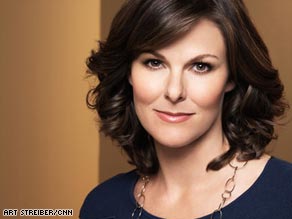 CNN's Campbell Brown says Barack Obama will be looked at as the guardian of Martin Luther King Jr.'s legacy.
(CNN) -- Barack Obama didn't run to be the next Martin Luther King Jr., just the next president.
But Tuesday, in that small window of time before he takes on two wars and a crippling economic crisis, thousands will look to Obama as the unofficial guardian of a legacy of justice and equality.
Many of you had the chance to watch King's monumental words once again in their entirety Monday here on CNN.
His dream and his life's work resonate now more than ever. Certainly, they resonate with the president-elect, who summoned King's words Sunday at the Lincoln Memorial.
Obama: "Directly in front of us is a pool that still reflects the dream of a King and the glory of a people who marched and bled so that their children might be judged by the character's content."
In his day, the Rev. Martin Luther King Jr. was called a great black leader. Then, in time, as the approved language changed, a great African-American leader.
It's obvious now, all these decades later, that the adjectives and the hyphen kept us from seeing a more fundamental truth: What's finally clear on this day we honor him, which falls on the eve of the inauguration of Barack Obama, is that Martin Luther King Jr was a great American leader, period. No qualifying adjectives or hyphen about it.
'No Bias, No Bull'
Get the latest on the day's main events.
8 ET Monday through Friday


A fundamental part of King's legacy is that his struggle allowed Barack Obama to emerge as a leader, too. No adjectives. No hyphens. Just the president.
The opinions expressed in this commentary are solely those of Campbell Brown.
E-mail to a friend

All About Barack Obama • Martin Luther King Jr.