(CNN) -- President-elect Barack Obama on Saturday retraced part of the train route taken by his political hero Abraham Lincoln to his inauguration in 1861 from Philadelphia, Pennsylvania to Washington, where Obama will be sworn in on Tuesday as the nation's 44th president..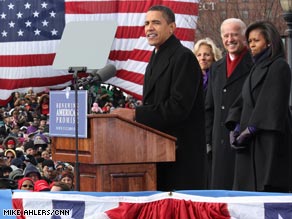 President-elect Barack Obama speaks Saturday during his stop in Wilmington, Delaware.
Here are dispatches from CNN correspondents and producers along the 137-mile route:
CANDY CROWLEY, ABOARD THE OBAMA EXPRESS IN PHILADELPHIA, PENNSYLVANIA, 10:50 a.m. ET: This is not just a march through history, and the Obama team certainly wants the Lincolnesque sort of symbolism to catch on.
But this is also a way to roll into Washington and try to keep that enthusiasm that Barack Obama saw on the campaign trail, because there are so many tough times ahead.
The themes he wants to fit here are not just "We need to get that spirit of patriotism, and we need to go back to what our forefathers believed in." He also said, at the end of his speech, let's make sure this election is not the end of what we do to change America but the beginning.

See Obama address a town hall meeting before his departure »
So it's the sort of commonality -- "I'm going to need you" -- and certainly he is, even though out there if they are not people who vote on Capitol Hill, they are certainly people who can pressure Capitol Hill.
And as he looked ahead and talked about the frustrations and the setbacks that are coming, he wants this train ride to begin that role and say, "I know the election is over, but you [have] got to stick with me, because I need it."
JASON CARROLL IN PHILADELPHIA, 11:49 a.m. ET: About 200 invited guests were on hand at the 30th Street Station here.

Watch Obama board the train »
Inauguration coverage
Coverage of Obama's inauguration continues Sunday with the debut of John King's "State of the Union" and a three-hour special at 2 p.m. ET
Sunday, beginning 9 a.m. ET

Heather Wehr and Talia Kasic, two 20-year-old Obama volunteers, told me they were chosen because they had worked on the campaign in its early stages.
Chosen to accompany the Obamas were 51 people, including 16 families from 15 states. Mark Dowell, a third-generation autoworker from Louisville, Kentucky, thinks he was chosen because he had spoken with Obama about surviving in the auto industry.
In his speech, Obama explained why he was bringing the group on the tour, saying, "I will be taking with me some of the men and women I met along the way: Americans from every corner of this country, whose hopes and heartaches were the core of our cause, whose dreams and struggles have become my own."
One of the more excited people was 6-year-old Victor Cozzone from suburban Philadelphia, who was able to shake the next president's hand. Victor said he was hoping to give the next president a fist-bump.
CANDY CROWLEY ABOARD THE OBAMA EXPRESS, 12:59 p.m. ET: Our first minor glitch happens as we detrain in Wilmington. Seems we -- the media -- broke free without "handlers." This tends to upset the Obama people.
As Obama talks, a line of Secret Service agents walks by me really quickly. I, of course, follow. Turns out people whose line of sight to Obama was blocked by other people have climbed into the leafless trees. That's a Secret Service no-no.
These bystanders are now back on the ground.
DAN LOTHIAN IN WILMINGTON, DELAWARE, 1:55 p.m. ET: Thousands of people, some showing up at 4:30 a.m., were at the Wilmington train station to hear Obama and Vice President-elect Joe Biden.
People braved 7-degree temperatures; it is now 23, but many tell me, "This is a once-in-a-lifetime event that we couldn't miss."

Watch Biden greet Obama as the president-elect arrives in Wilmington »
This location is also symbolic because it is in Tubman-Garrett Park, named after Harriet Tubman and Thomas Garrett, who did so much to help slaves.
Biden and his wife, Jill, arrived first and received a warm reception from a crowd of thousands, some of whom had been waiting for more than eight hours in the cold. He was introduced by the train's conductor as "Amtrak's No. 1 commuter."
Biden reminded the crowd that he has made the Amtrak commute to D.C. for decades and that Jill will now have to get used to him being at home at 7 a.m. She no longer will see him off to the train station in the morning and have that free time until his typical return at 8 or 10 p.m.
Biden joked that he will now be living in government housing.
The vice president-elect said that it's not every day you get to ride the train with the next president of the United States.
Biden introduced Obama and his wife, Michelle, as the crowd roared. The entrance music sounded like a soundtrack from "Titanic." Obama came onstage first and waved around to the crowd as many took pictures or had pictures taken of them with Obama and Biden in background.
Then Biden walked over to the steps, extended his hand and helped Michelle onto the stage. Obama reminded the crowd that it was Michelle's birthday. Some members of the crowd started singing "Happy Birthday."
Obama spent a lot of time praising Biden and his sacrifice to the country. He talked about Biden's tragedy of losing his first wife. And he talked about hope for the future.

Watch Obama talk about "the scrappy kid from Scranton" »
After his speech, Obama waved and then worked the crowd as his detail scrambled to keep up.
The crowd was made up of all ages: The Ku'umba Academy dance group performed. There were senior citizens, young kids propped on shoulders. Blacks and whites. We noticed at least three people who had to be helped by paramedics and were taken away.
CANDY CROWLEY ABOARD THE OBAMA EXPRESS, 2:23 p.m. ET: Rolling into Maryland now through mostly rural- and lower-income areas. There are clusters of people here and there.
The most striking are the lone people, standing precariously on a hillside just feet from the tracks, waving as the train comes and after it passes: a single woman outside her mobile home waving a flag almost bigger than she is; two men standing on top of an 18-wheeler's trailer, hardly dressed for the weather, hands in pockets as we pass; and the man who came out on his back porch, hundreds of yards away from the track, to wave.
JOE JOHNS IN EDGEWOOD, MARYLAND, 3:26 p.m. ET: When we first got to the little train stop here, it looked as though Obamamania had somehow missed this place.
OK, admittedly, Obama's train was only supposed to slow-roll through town on its way to Baltimore and eventually Washington. So people who took the time to come out here weren't exactly promised a chance to meet and shake the hand of the next president. About 11 a.m. or so, it looked like there were maybe 60 to 80 people in line. But once the Secret Service started letting people in, the numbers just grew and grew pretty much continuously.

Watch the train's slow roll in Edgewood »
Turns out this town has a really special place in its heart for Obama; one of the townies told me Obama's train was passing thorough the only precinct in all of Harford County that went for Obama in the election.
Another example of the Obama enthusiasm was that people who were the first to get in told me they were waiting at 5:30 a.m.
And even though we were only 50 or 60 miles from Washington, most of the people I talked to said this would be the one and only inaugural event they would attend.
Without a doubt, people gave some serious consideration to going to D.C. But a lot of people were dissuaded by predictions of multimillion-person crowds. One told me he wasn't interested in the kind of craziness.
CANDY CROWLEY IN BALTIMORE, MARYLAND, 3:45 p.m. ET: The Obama Express was greeted by six small children standing in the middle of an intersection, jumping up and down and waving as the train approached Baltimore.
For much of this trip, Obama's whistle-stop tour has been greeted by the people with the highest hopes and greatest need for a successful Obama administration, including people living in the outskirts of Baltimore.

Watch Obama greet supporters in Baltimore »
As it arrived in the city, the train carrying the president-elect has passed some of the most economically distressed areas in the country.
The president-elect, the vice president-elect and their entourage are holding an event on the steps of Baltimore's City Hall before continuing on to Washington.
SUZANNE MALVEAUX AND JAMIE CRAWFORD AT WASHINGTON'S UNION STATION, 4:20 p.m. ET: They have come here from as far as Liberia. Eager and anxious Obama fans have descended on Washington.
They are impatient to get a glimpse of the man who in just a few days will become president. While they wait, we are their biggest curiosity. There are camera lights and a table, and a TV monitor is tuned to CNN's coverage. They huddle around us, and the question is always, "When is he arriving?" As the last stop on his whistle-stop tour, we've had a chance to hear the stories from those who have traveled from Seattle, Washington; Miami, Florida; Atlanta, Georgia; and frigid Cleveland, Ohio.
One man wearing a black down coat is covered in Obama buttons that blink in red lights. A proud father from Chicago hands me an 8x10 poster of Obama that he says his son, an artist, drew, of Obama's face, that also includes the flags of Kenya, Illinois and the United States.
Even though we're indoors, it's cold here, as we are sitting by a train station exit. Everyone is bundled up, from snow gear to elaborate fur. A store farther inside the station is selling special Obama sugar cookies, with an Obama face and a flag. There is a dish of crumpled sample pieces to entice customers. At another popular corner, people are lined up to take their picture at a life-size cardboard placard of Obama.
Though there will be no arrival sighting here, as on the other stops on the tour, or even a chance to get a glimpse of Obama coming off the train, there is a contagious buzz about how the next 48 hours will unfold. Red, white and blue balloons decorate the entrances of several restaurants as Union Station will host a Latino inaugural gala tomorrow. A red rope line cordons off a small stage.
Outside, there are a handful of protesters wearing black shirts with white lettering that say "Arrest Bush." They say President Bush is guilty of war crimes and are calling for him to close the Guantanamo Bay prison. It's a controversy Obama has addressed, pledging to use his executive power next week to shut down the facility.
But inside Union Station, the mood is light, even if most of the out-of-towners are shivering. Unfortunately, they'll have to wait for tomorrow to get a glimpse of the new first family when official events kick off here in Washington.
BRIANNA KEILAR IN BALTIMORE, 4:35 p.m. ET: You could see people crying during Obama's speech in Baltimore. Some people told us ahead of time that they would. They said they had cried out of happiness so many times during this election, and they were pretty sure they were going to be emotional seeing Barack Obama here today.
This is a rare treat for them. Maryland was firmly in Obama's column in the general election, so folks here didn't get to see him campaign a whole lot. This is one of the few times they have been able to see him in person.
There are so many people in the crowd who have brought their children, some of them young, some of them teenagers. Many said they wouldn't have gone out into this brutal cold except that their kids wanted to come.
Other people are saying they came for their parents, parents who couldn't be here and who never would have believed this could ever have happened.
CANDY CROWLEY ABOARD THE OBAMA EXPRESS, 6:25 p.m. ET: It is pitch black as the Obama train heads to Union Station in his new hometown of Washington. Still, you can see the outlines of people standing near the rails, waving as we whiz by.
Walking through the train, I spotted Michelle Obama dancing with her girls and friends in one of the cars decorated for her 45th birthday.
We are pulling into Union Station. The day is done.
SUZANNE MALVEAUX AT UNION STATION IN WASHINGTON, 7:10 p.m. ET: It was quiet near the president-elect's train when it arrived, but inside Union Station, there was a lot of activity and a lot of noise from folks who knew they would not even get a chance to see him.
People from all over the country and all over the world were at the station.
Asked what Obama meant to him, Terry Kinney of Georgia said it was how he will affect the future. "When I think about the Supreme Court justices that he might appoint and how it's going to affect my son," he said. "The economy is important, but when he appoints the Supreme Court justices, it's going to change my son and all of our kids' lives for over 50 years."
Eleven-year-old Grant Ibeh said Obama's presidency shows him that "my dreams can come true."

"I'm really excited of having him as our new president, and he's going to do well for this town," Grant said.
There are a lot of people in Washington who are eagerly awaiting the inauguration and happy just to be here, a lot of people who will be sleeping on cots, staying with family and staying with friends. A lot of them don't even have tickets, but they're here to share in this moment.
E-mail to a friend

All About Barack Obama • U.S. Presidential Inauguration