By Ed Hornick
CNN






WASHINGTON (CNN) -- They came from around the world, braving bitterly cold temperatures, security perimeters and large crowds in the streets of the nation's capital to see one man make American history.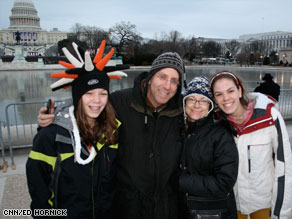 The Lurie family traveled from Brookline, Massachusetts, to be a part of Inauguration Day.
And even though Barack Obama was about 40 miles north on a whistle-stop train tour Saturday, they descended on the National Mall, where more than 2 million people are expected to gather for Tuesday's presidential inauguration.
Some came from nearby states, others from the Washington area. But for one man, Obama's victory was worth traveling halfway around the world.
Abou Koudar hails from the Comoros Islands, off the coast of Mozambique. Koudar said he was invited by the U.S. ambassador to Madagascar to witness Obama -- whose father was from Kenya -- take the oath of office.
"This victory is not only a victory for race but the whole world. It's not only black or white. It's everybody. It's a very meaningful victory for the world, because this is the first time the whole world is just watching. It's unbelievable," he said through interpreter Salah Djimbmaou.
Koudar, who joked that he is something of a reporter to friends and family looking for news, was taken aback by the low temperatures, which hovered in the teens Saturday afternoon.
"Oh, my goodness! Oh, my goodness!" he said with a laugh as his entire body shivered.
For Katrina Peoples, the visit to the Mall was a preview of Tuesday.
Watch with CNN!
Watch the historic inauguration of Barack Obama with CNN and the best political team on TV!
Tuesday, beginning 8 a.m. ET

"We're here today to do a dry run. We're preparing for whatever," said Peoples, of Greensboro, North Carolina. "We had to come to see this historic event. You just have to come. It's like a beacon to come here."
Peoples volunteered for Obama in North Carolina, a normally solid-red state that went for the Illinois senator. She said she will stay with a friend in Bowie, Maryland, and head in by way of Washington's Metro system.

Watch more on Obama's whistle-stop tour to D.C. »
But for the visitors around the U.S. Capitol, it was much more than just sightseeing; it was an opportunity to walk the ground where history will be made.
"I wouldn't have missed this for the world, and to think what this country has been through and where we can go," said Howard Lurie, who traveled with his family from Brookline, Massachusetts. "I think we've taken so much for granted, and it's so much to be here ... such a moment to experience the crowd and see everyone else standing out in the cold."
Lurie's sister Ellen Lurie-Hoffman, who lives in Bethesda, Maryland, said there's an electricity in the air -- and she had to be a part of it.
Don't Miss
"My husband and I were here for both of Clinton's inaugurations. ... This just feels different. It feels like the whole country is just ready to celebrate, to see a serious change and new direction," she said.
Hoffman said her trip into Washington on Saturday was a chance to show her family the preparations being made in case they don't get a chance to stand on the parade route Tuesday.
"If it's too cold, we might not go. We wanted to drive down today to show our out-of-town visitors the festivities and port-a-potties and scaffolding. It's just exciting to see so many different people who've obviously convened from all over the country, from all walks of life."
And that includes many students, who turned out in droves for Obama's campaign.
"So far, it has been very cold but absolutely incredible. ... I would have better words, but I'm in awe of it. It will probably sink in later," said Lucia Mock, who attends Wheelock College in Boston, Massachusetts. "Being here while it's empty and imagining millions of people. I don't think I'll be able to miss it. Its just too incredible."
Mock, who came to Washington for a seminar, will have a big headache come Tuesday: She has to catch a 4 p.m. flight back to Boston.

Jimia Harris, a student from the District, said she is "speechless" at the notion that the country will have its first African-American president.
"To see an African-American man hold such a high position in office and to be here to support him, it's actually a memorable moment -- to actually be a part of history. We never thought this would ever happen, ever."
E-mail to a friend

All About Barack Obama • U.S. Presidential Inauguration