WASHINGTON (CNN) -- White House spokeswoman Dana Perino on Friday said she would do the job again -- but only if she could work for her current boss.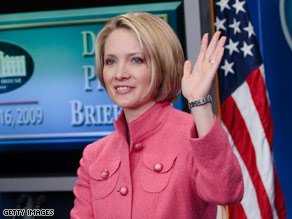 Dana Perino said goodbye to the White House press corps at her last briefing as White House spokeswoman Friday.
"I wouldn't do it for anybody but President Bush," Perino said as she briefed reporters for the last time Friday.
"If given the chance to do it over again, would I? Yes," Perino said. "But would I ever come back and do this? No. ... I think it's good to get off the stage."
Perino also thanked the White House press corps.
"We all have difficult jobs, we all work long and tough hours, and it's been an exciting challenge," said Perino, 36. "I know I had some big shoes to fill when I got here -- and I still only wear a size six."

Watch Bush's farewell address »
And she wished President-elect Barack Obama's spokesman, Robert Gibbs, "all the very best."
"Please go easy on him -- for a week," Perino joked with reporters.
In the 80-year history of official White House press secretaries, only two women have been named to the job: Dee Dee Myers, who served former President Bill Clinton, and Perino.
It's been 15 months since Bush named Perino to succeed Tony Snow, who later died of colon cancer, as White House press secretary.

View key moments in the Bush presidency »
State of the Union
Dana Perino and Clinton press secretary Dee Dee Myers will discuss the role of the White House press secretary with Howard Kurtz
9 a.m. ET Sunday

"It was about two weeks into the job when I realized that I am never going to be like Tony Snow," Perino said.
Her first goal was to make briefings less heated. She still pushed back, but chose her confrontations carefully.
"If I was testy all the time as a woman in this position, I can only imagine what people would have said about me, so there is a delicate balance, I think, in this position."
During her time behind the White House podium, Perino sparred almost daily with the media on a number of contentious issues, including the president's decision to "surge" troops into Iraq.
Perino said there are some things that she would have done differently.
"I'm sure that I'll have lots," she said Friday when asked if she had any regrets. "I'm going to go on a six-week trip with my husband, and I'm sure there will be long-enough flights for me to think about all the things we could have done better.

View iconic images from Bush's time in the White House »
"Any press secretary always wants to be more proactive, but news happens all over the world," Perino said. "And now with the 24/7 news cycle, in many ways, sometimes, you feel like you're just trying to keep up with that."
"That's not a regret or a disappointment. It's just a fact of life," she added.
As she begins to look beyond her years in the West Wing, Perino, a native of Wyoming who was raised in Colorado, says she is looking forward to spending more time in her own neighborhood in Washington with her husband, Peter McMahon, and their dog, a Hungarian Vizsla named Henry.

Watch Perino prepare for life after the White House »
She is also looking forward to sleeping in.
When asked what she will miss the least from her time in the White House, Perino said, "Absolutely has to be getting up at 4 o'clock in the morning.

"I don't mind working long hours, I don't mind working hard, but getting up when the four is still on the clock is something I hope I never have to do again unless I'm catching a flight to some exotic location," she said.
After January 20, Perino does plan to take a vacation -- which she says will include volunteer work for President Bush's HIV/AIDS relief program in Africa.
E-mail to a friend

CNN's Elaine Quijano and Scott J. Anderson contributed to this report.
All About Dana Perino • The White House