From Ed Hornick
CNN






WASHINGTON (CNN) -- With just a few days until his historic inauguration, President-elect Barack Obama will travel by train from the birthplace of the nation's democracy to the city where political power brokers run it.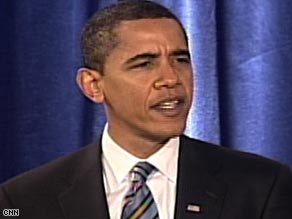 President-elect Barack Obama will kick off several days of inaugural festivities in Philadelphia, Pennsylvania.
Obama will begin Saturday at an event in Philadelphia, Pennsylvania, around 10 a.m. The Presidential Inauguration Committee says tickets are required for the event and will be distributed to the public.
He will later stop in Wilmington, Delaware, the home of Vice President-elect Joe Biden. The event will be held in the back of the Wilmington train station. Doors open at 9:30 a.m.
The train tour later stops in Baltimore, Maryland, for another public event at the War Memorial Plaza. Doors open at 1:00 p.m.
The final stop: Washington, where Obama will head to Blair House, his temporary home. iReport.com: Is the train coming to your town? Send us your photos
The trip kicks off several days of inauguration activities -- including concerts, balls and the inauguration itself on January 20.
On Sunday afternoon, Obama will help launch a star-studded free event at the Lincoln Memorial, which will be broadcast live on HBO and other cable and satellite providers.
Musical performers, according to the inaugural committee, include: Beyonce, Mary J. Blige, Bono, Garth Brooks, Sheryl Crow, Renee Fleming, Josh Groban, Herbie Hancock, Heather Headley, John Legend, Jennifer Nettles, John Mellencamp, Usher, Shakira, Bruce Springsteen, James Taylor, will.i.am and Stevie Wonder.
Don't Miss
Among those reading historical passages will be Jamie Foxx, Martin Luther King III, Queen Latifah and Denzel Washington. The Rev. Gene Robinson, who is openly gay, will give the invocation.

Watch more on the hunt for inaugural tickets »
As the throngs of celebrities descend on the city, crowds of regular folks will visit, too.
Nearly 2 million people are expected to hit the streets of Washington on January 20. Police will shut bridges across the Potomac River into the city, along with a huge chunk of downtown.
Two of the major routes coming into the city -- Interstates 395 and 66 -- will be closed to inbound traffic, at least for private vehicles.
All bridges between Virginia and Washington will be closed. Those coming from Virginia will have to walk or take public transport, such as the metro area's subway system.
Amtrak says it has increased the number and length of trains running to Washington on Inauguration Day. Tickets are still available, but are going fast, it says.

Watch more on inauguration transportation and security plans »
Security officials also say charter buses, taxis and car services are an option for those attending.
There are several obvious items that are prohibited, according to the U.S. Secret Service, including:
"Firearms, ammunition, explosives, weapons of any kind, aerosols, supports for signs and placards, packages, coolers, thermal or glass containers, backpacks, bags exceeding size restrictions, laser pointers, animals other than helper/guide dogs, structures, bicycles and any other items determined to be a potential safety hazard." Read more on Inauguration Q&A
Items surrendered to security officials will not be returned.
Other banned items include baby strollers and umbrellas.
In terms of crowd control, plans are in the works to open the National Mall, extend hours for public transportation and -- perhaps most daunting -- provide parking for the influx of revelers.
"Even though we're very practiced at inaugurations and large events, this is one that will rewrite the book on inaugurations," says Rep. Eleanor Holmes Norton, D-Washington, who has requested an additional $15 million from Congress to help the city cover costs. That would double the $15 million Congress has already allocated to pay for all national events and demonstrations in Washington during 2009.
The city will double its 4,100-member police force by calling in officers from other districts, and is working with local transportation officials on how to move people downtown.

With the crowd comes a probable uptick in tourism. Bars will be open until 4 a.m. to accommodate revelers, and hotels in the area are booking rooms for two or three times the normal rates.
"There'll be plenty of people coming, using our grocery stores, restaurants, movie theaters, hotels; spending money, enjoying themselves," Washington Mayor Adrian Fenty says. "And when they see how great a city this is, if they didn't already know, they certainly will return."
E-mail to a friend

CNN producer Rachel Streitfeld contributed to this report.
All About Barack Obama • Joseph Biden