WASHINGTON (CNN) -- During his confirmation hearing Thursday, Attorney General-designate Eric Holder conceded that he "made mistakes" during the Marc Rich pardon incident that were "not typical" of his conduct over the bulk of his career.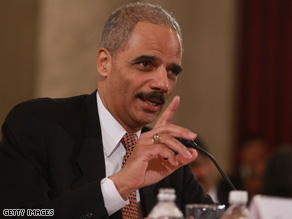 Attorney General-designate Eric Holder told senators Thursday that he learned from the Rich pardon incident.
Holder said he "made assumptions that turned out not to be true" during the Rich pardon process, which became the "most intense" and "searing" experience he "ever had as a lawyer."
Holder's willingness as deputy attorney general to go along with the pardon over the objections of Justice Department career prosecutors has continued to haunt Holder. The pardon came in the last days of President Clinton's term.
At his confirmation hearing Thursday before the Senate Judiciary Committee, Holder said he learned from the Rich pardon incident and will "be a better attorney general" as a result.

Watch Holder talk about the pardon of Mark Rich »
One of the lessons of the Rich case, Holder said, was the need for "full consultation with all lawyers in the pardon process." Holder said there was a need to improve the pardon process, which seems to experience a "deterioration... at the end of every administration."
Holder, in response to a question from Sen. Arlen Specter, said he did not recommend that former Clinton White House counsel Jack Quinn, who served as Rich's lawyer during the pardon process, circumvent the Justice Department and go "straight to the White House" with the pardon application.
Holder admitted he made a mistake by being inadequately informed about Rich's criminal background.
Don't Miss
Holder's handling of the Rich pardon is a chief concern of Judiciary Committee Republicans.
Specter, the ranking Republican on the Judiciary Committee, said there is "no doubt" Holder "comes with an excellent resume, but there are questions nonetheless."
Earlier, as the hearing began, Vermont Sen. Patrick Leahy appealed to the deeply polarized panel "to move past the partisanship of the past decades" and approve Holder.
Leahy, presiding over the panel, said Holder has a proven "commitment to the rule of law."
He continued that Holder had the character to serve as attorney general while restoring morale at what Leahy termed a "demoralized" Justice Department.
A number of Republicans -- as well as some Democrats -- also blame Holder for backing pardons in the late 1990s for convicted FALN Puerto Rican prisoners who had committed acts of violence.
Holder told the committee Thursday that President Clinton's 1999 decision to grant clemency to the 16 FALN prisoners "was reasonable."
Holder noted that there were "a lot of people in support of that clemency request," including former President Jimmy Carter and civil rights leader Coretta Scott King.
The prisoners were "bad people," said Holder, but clemency was warranted in part because none of their acts resulted in physical harm to anyone.
The FALN -- or Armed Forces of National Liberation -- is a Puerto Rican terrorist group responsible for multiple bombings of U.S. military installations.
Holder's confirmation hearing is set to offer the first taste of the rough and tumble partisanship in the new Congress.
Leahy, who controls the committee, appears highly likely to have the votes to approve Holder's nomination, but Republicans could make it a bruising and divisive confirmation fight.
Specter has vowed to scrutinize the record of the former deputy attorney general.
"We need to be sure the attorney general does not bend his views in any way that is partisan or political," Specter said.
"I totally disagree with him," Leahy said of Specter during a session this week with reporters.
Leahy pointedly noted "it may be just a coincidence" that Specter and Committee Republicans began to criticize Holder's record after GOP strategist Karl Rove suggested they should do so.
Leahy has repeatedly insisted Holder's record shows the nominee will exhibit independence from the White House if necessary while Specter remains unpersuaded. Senators of each party are expected to line up behind the two men.
Specter has not said how he will vote in advance of the hearing. GOP veteran Orrin Hatch has said he may support the nomination in the end, but has questions.
Former Sen. John Warner, R-Virginia, testified on Holder's behalf, saying that while Holder's career has been marked by certain "misjudgments," he has proven a capacity to learn from his mistakes.
In addition to the pardon matters, Republicans say they intend to grill Holder over his role in the Justice Department decision to raid a Miami, Florida, home to remove then-10-year-old Elian Gonzales.
During the tenure of Attorney General Janet Reno and Holder, the boy was handed over to his father and returned to Cuba. The anti-Castro community in South Florida and many other conservatives were livid.

Republican senators have also indicated an intention to highlight Holder's strong support for restrictions on gun rights.
If confirmed, Holder would be the first African-American attorney general.
E-mail to a friend

CNN's Terry Frieden contributed to this report.
All About Eric Holder • U.S. Department of Justice