WASHINGTON (CNN) -- President-elect Barack Obama defended his Treasury Secretary-designate Tim Geithner on Wednesday amid reports that Geithner failed to pay the correct amount on his taxes for a time and employed a housekeeper whose work authorization had expired.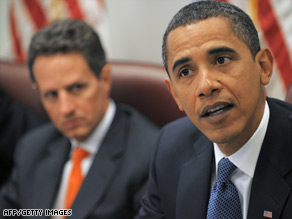 Barack Obama's team says Tim Geithner, left, quickly addressed the mistakes he made.
Obama told reporters he did not think the controversy would jeopardize Geithner's confirmation. "Tim Geithner, when I nominated him, was rightly lauded by people from both sides of the aisle, from the market, from labor, as somebody who was uniquely qualified."
Obama said it was an embarrassment for Geithner, president of the Federal Reserve Bank of New York, but called it "an innocent mistake."
"It has been corrected. He's paid the penalties. ... So, my expectation is that Tim Geithner will be confirmed. And my expectation is that he is going to do an outstanding job on behalf of the American people," he added.
Stuart Levey, a top Bush official, agreed to stay on as acting Treasury Secretary if current Secretary Henry Paulson's successor is not confirmed by the Senate by Inauguration Day, a source close to the transition said Wednesday.
Levey is the Treasury Department's undersecretary for terrorism and financial intelligence.
Geithner received immediate backing from Republican Sen. Lindsey Graham of South Carolina, who met with Obama on Wednesday.
Geithner "has a great resume," Graham said. "I don't see any desire by the Republican Party to play 'gotcha' on something like this. We need a new secretary of the treasury who understands where this country is at financially and has a game plan to move forward. I think he's the right guy."
Utah Republican Sen. Orrin Hatch said Wednesday that he is working to gather GOP support for Geithner, because he thinks he is an "excellent choice."
Don't Miss
"He made a mistake. He's sorry he did. I'm sorry he did, " Hatch said. "We all make mistakes. My gosh, he's a competent, highly qualified guy."
Hatch did say that people have a right to be upset about Geithner's financial misshap, but added that if politicians can't make mistakes, then "nobodys going to be able to serve here."
Other Senate Republicans are demanding more answers on the issue.
"To say this is insignificant -- it's not," Sen. Jeff Sessions, R-Alabama, said Wednesday.
Sen. Jim DeMint, R-South Carolina, said Geithner ignored the rule of law.
"When a nominee for Cabinet secretary has clearly done that, not as an oversight but apparently intentionally, then it does become serious," DeMint said.
Members of the Senate Finance Committee met with Geithner on Tuesday over concerns about his personal taxes and the immigration status of a former worker, transition officials said.
According to a statement by the committee, Geithner failed to pay self-employment taxes for money he received while he working for the International Monetary Fund from 2001-2004.
In 2006, the Internal Revenue Service audited Geithner for tax years 2003 and 2004, and he paid $16,732 for the taxes and interest for those years, the statement said. After Obama nominated him for treasury secretary, Geithner voluntarily amended his taxes for 2001 and 2002, paying $25,970 for those taxes and interest, the committee said.
According to the Obama team, transition officials discovered the problem on November 21 and notified the Finance Committee soon afterward. The committee's release said members learned of the problem December 5.
As an international organization, the IMF does not withhold money from employees' paychecks for Social Security and Medicare. U.S. employees are required to pay them on their own.
Gibbs, the incoming White House spokesman, called Geithner's tax issue a "common mistake."
On the second issue, Geithner and his wife employed a housekeeper whose employment authorization document expired about three months before she stopped working for them in October 2005, according to a statement from the Finance Committee.
The housekeeper, who is married to a U.S. citizen, later was granted a green card, transition officials said.
Committee Chairman Max Baucus, D-Montana, said in his judgment, the errors were "honest mistakes" that "do not rise to the level of disqualification."
Geithner's nomination hearing is scheduled for January 21, a Democratic Finance Committee source said.
Sen. Jon Kyl, R-Arizona, raised an objection to holding the hearing Friday, forcing a delay until next week, a spokesman for Kyl said.
The committee said it would continue to review Geithner's tax returns and other information ahead of the hearing.
Sen. Charles Schumer, D-New York, said Wednesday that he was "very optimistic that the confirmation will move forward."
"[Geithner] said he had made mistakes. He was very contrite about it, and he said he'd fully rectified those mistakes immediately," Schumer said. "The general view, not universal, in the committee was that what he had done clearly was not right but was not something that ought to prevent his nomination, and I've heard that from both Democrats and Republicans on the committee."
Confirmation hearings for Obama's Cabinet members also took place Wednesday on Capitol Hill.
An announcement went out Tuesday night that the hearing for former Rep. Ray LaHood, Obama's pick for transportation secretary, has been delayed.
A Senate aide said the LaHood postponement is not related to the Geithner situation or a Washington Post article on Wednesday that reported on LaHood's sponsor of transportation earmarks that benefited campaign donors. The aide said the delay is because LaHood's paperwork isn't finished.
LaHood was a seven-term Republican congressman from Peoria, Illinois.

The confirmation hearings for Wednesday included those for former Iowa Gov. Tom Vilsack for agriculture secretary, Lisa Jackson for Environmental Protection Agency administrator, Nancy Sutley for chairman of the Council on Environmental Quality, retired Gen. Eric Shinseki for veterans affairs secretary, Peter Orszag as director of the Office of Management and Budget, and Robert Nabors II as deputy OMB director.
Sen. Hillary Clinton on Tuesday completed testimony on her nomination as secretary of state. The Senate Foreign Relations Committee is expected to vote on her nomination Thursday.

Watch highlights from Clinton's hearing »
E-mail to a friend

CNN's Dana Bash, Candy Crowley and Ed Henry contributed to this report.
All About Barack Obama • Timothy Geithner • Barney Frank