WASHINGTON (CNN) -- Congressional Democrats flexed their new political muscle Wednesday as the House of Representatives passed legislation expanding the State Children's Health Insurance Program by more than $32 billion over five years.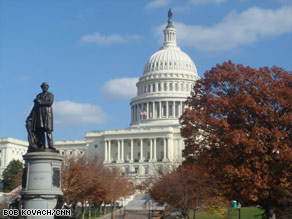 The House passed the SCHIP bill on Wednesday, and the Senate will take it up next week.
The SCHIP bill, which will be taken up by the Senate next week, passed by a vote of 289-139. House Democrats provided almost unanimous support; a strong majority of House Republicans were opposed.
"In this moment of crisis, ensuring that every child in America has access to affordable health care is not just good economic policy, but a moral obligation we hold as parents and citizens," President-elect Barack Obama said in a statement released after the vote.
"I hope that the Senate acts with the same sense of urgency so that it can be one of the first measures I sign into law," he said.
SCHIP covers more than 6 million children whose parents earn too much to qualify for Medicaid -- the federal health insurance program for the poor -- but who can't afford private insurance.
Don't Miss
The bill's supporters say the legislation would extend the program to an estimated 4 million additional children, paying for it with a 61-cent-per-pack increase in the federal tax on cigarettes.
Passing an expansion of SCHIP early in Obama's presidency, House Majority Leader Steny Hoyer said, would be "a very dramatic and important statement that change has come to America."
"Children are our treasure," said Rep. John Dingell, D-Michigan. "The bill is only the beginning. ... We must not stop until all Americans qualify for quality, affordable health care."
Opponents of the bill argued that, among other things, it discriminates against physician-owned specialty hospitals, will allow undocumented immigrants to illegally access taxpayer-financed healthcare, and is insufficiently funded.
"Increasing the cigarette tax ... does not, will not, and cannot cover the costs of this program," Rep. Dave Camp, R-Michigan, said. "The impending tax increases ... will have us all in a severe coughing fit."
Funding the bill through cigarette taxes is "irrational," added Rep. Wally Herger, R-California, because it "finances a growing program through a declining revenue source."
President Bush vetoed two similar bills in 2007, arguing at the time that the legislation would have encouraged families to leave the private insurance market for the federally funded, state-run program.
E-mail to a friend

All About Barack Obama • U.S. House of Representatives