From Dana Bash and Brianna Keilar
CNN





(CNN) -- The Senate will vote Thursday on whether the second half of the $700 billion financial rescue package is released, Senate Majority Leader Harry Reid said late Wednesday.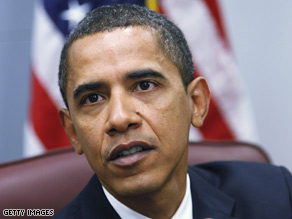 Barack Obama is facing bipartisan opposition to his plans for the bailout funds.
A senior leadership aide says Democrats are hopeful but acknowledges that they are still not sure they have the votes to give President-elect Barack Obama the money he says is essential to fixing the economy.
A vote to block the release of $350 billion will take place anyway, because "the longer this thing hangs out there, the more water it takes on," the aide said.
The decision to hold a Thursday vote comes hours after Rahm Emanuel, Obama's incoming chief of staff, and Lawrence Summers, a top Obama economic adviser, held an urgent, closed-door meeting with Republican senators, urging them to support giving them remaining bailout money.
Some half-dozen Republican senators who voted for the financial rescue in the fall tell CNN they plan to oppose it this time.
Obama has already told members of his party he would veto any attempt to block his access to the remaining balance under the Treasury Department's $700 billion Troubled Asset Relief Program, or TARP.
Democrats and Republicans have expressed reservations about releasing the remaining funds, citing displeasure with the way the first half was handled.
"I think it would be very difficult voting for the TARP funds because in the first $350 billion, there was no transparency. We don't even know how it was spent," Nevada Republican Sen. John Ensign told CNN.
Ensign said he believes most Senate Republicans will oppose approving the rest of the bailout funds.
In fact, three Republican senators tell CNN that some participants in Tuesday's GOP lunch urged Republicans to unite in opposition to Obama on this issue.
Don't Miss
The senators, who asked not to be named because it was a private meeting, said the GOP argument in opposing the bailout funds is to make Democrats "own" the issue -- and put pressure on them to handle the controversial money more responsibly.
Many Republicans say they were angry that President Bush used the money for the auto industry, and they disagree with proposals to spend the money on other industries beyond the financial sector.
GOP sources say another factor fueling their opposition is how much political trouble this issue caused several Republican senators in the fall elections.
Texas Republican John Cornyn told CNN he got pounded in his re-election bid for voting yes on the Wall Street bailout. He said that, combined with mismanagement of an already unpopular program, means he will oppose releasing the remaining $350 billion.
Because of the growing GOP opposition, Obama's team will return to Capitol Hill to lobby Senate Republicans for support.
A Senate Democratic leadership aide said the phone calls Obama has been making to Senate Democrats since Monday have swayed some Democrats who have been reluctant to disperse more money from the extremely unpopular bailout program, but "we're going to need some Republicans," the aide said.
There are some notable Republicans who support approving the remaining bailout dollars. Sen. Judd Gregg, R-New Hampshire, is arguing forcefully to his colleagues that financial institutions need this money to get the economy back on track.
A Senate Republican leadership aide said Republicans want assurances from the Obama team that bailout funds will not be used to buoy specific industries, as it was for the auto industry by the Bush administration. Even if those assurances are given, it is unclear if enough Republicans would vote to release the money.
In the House, Rep. Barney Frank, D-Massachusetts, has put forth what he describes as his "trust but verify" bill that would place tighter restrictions on how the Obama administration can spend the remaining bailout funds.
Under the bailout legislation approved by Congress in October, unless Congress passes a joint resolution rejecting the request within 15 days, the Treasury Department can begin tapping the funds. Obama has vowed to veto a resolution denying him the funds.
Several key Democrats who had earlier stated their displeasure with the handling of the first $350 billion are now changing their tune, saying they will honor the incoming Obama administration's request.
Some Democrats, however, say they are torn between giving Obama his first political win and answering to already outraged constituents back home.

Sen. Claire McCaskill of Missouri said she can't go into a grocery store without getting bombarded by angry Missourians.
"People are shouting out their cars at me ... 'When are you going to write me a check?' "
E-mail to a friend

CNNMoney's David Goldman contributed to this report.
All About Barack Obama • National Economy