By Scott J. Anderson
CNN





WASHINGTON (CNN) -- In the eyes of the world, President Bush is a bully engaging in "cowboy diplomacy" who has hurt America's image abroad or a liberator who has freed millions from tyranny.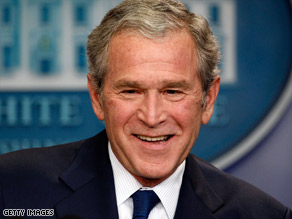 President Bush is unapologetic about his efforts to protect the homeland.
But few would doubt that he was a man willing to act on the world's stage.
Considering Bush's history before he entered the Oval Office, it is somewhat surprising that his actions in the international sphere will largely define his presidency.
During the 2000 election, then-Texas Gov. George Bush's lack of international experience was not viewed as a liability, and many expected him to focus on domestic issues like education reform and Social Security.

View iconic images from Bush's presidency »
But 9/11 changed that. While admitting that the rhetoric he used could have been less harsh, Bush is unapologetic about his muscular response to the terrorist attacks -- first with the invasion of Afghanistan, and then of Iraq -- that would largely define his international legacy.
"Around the world we assembled a coalition of more than 90 nations to fight terrorism and advance the cause of freedom, in the great ideological struggle of our time," Bush said at a farewell address at the State Department Thursday. "In short, we made our alliances stronger, we made our nation safer, and we have made our world freer."

View a timeline of key moments in Bush's presidency »
And on Wednesday, Bush told CNN's Larry King, "I told the American people I wouldn't tire and I wouldn't falter, and I haven't."

Watch Bush's interview with Larry King »
Don't Miss
Supporters say Bush does not get enough credit for preventing a terrorist attack on the U.S. since the 9/11 attacks or for liberating millions from tyranny in Afghanistan and Iraq.
"It's a stunning achievement by any measure," said Nile Gardner, a senior foreign policy analyst at the Heritage Foundation, a conservative think tank. "President Bush has liberated more people from tyranny since Franklin Delano Roosevelt."
But the final outcomes in Iraq and Afghanistan are far from clear, and, Robert Guttman, director of the Center on Politics and Foreign Relations at the Johns Hopkins University School of Advanced International Studies, says Bush must be faulted for the poor planning and execution of the war in Iraq -- a war that will go on well beyond his time in office.
"You start a war and you don't end a war in your administration? That's terrible," said Guttman, who believes that "history will show that the Iraq war ... was poorly handled."
"If Iraq becomes a thriving democracy ... he'll be judged well," Guttman said, "but the chances of that are one in a trillion."
And Guttman said Bush cannot be excused for failing to capture the man behind the attacks on 9/11.
"He's going to leave office without finding the man who killed more than 3,000 Americans," he said.
The world's opinion of the United States has eroded during Bush's presidency because of decisions like invading Iraq.

Watch Bush's final briefing as president »
A Pew report released in December found that favorability ratings for the United States had fallen between 2002 and 2007 in 26 of the 33 countries polled.
"In the view of much of the world, the United States has played the role of bully in the school yard, throwing its weight around with little regard for others' interests," the authors of the Pew study wrote.
Many of Bush's critics say he wasted an opportunity to unite the world when sympathy for the U.S. was at an all-time high after the attacks on the World Trade Center and the Pentagon.
While much of the world "loves America," John Hopkins' Guttman said, "Bush put them in a state of shock" because he presented a cavalier attitude that did not live up to their image of America.
Bush's willingness to disregard world opinion led to the characterization of U.S. foreign policy as "cowboy diplomacy" during his eight years in office.
"I don't think a lot of people thought he was there to listen. He knew all the answers," Guttman said.
And many critics say Bush damaged America's moral standing abroad by allowing what they consider torture at the Abu Ghraib prison in Iraq and and the military prison at Guantanamo Bay, Cuba.
While admitting during his last news conference that "Abu Ghraib, obviously, was a huge disappointment," Bush strenuously disagreed with the idea that the image of the U.S. was diminished during his time in office.
"I strongly disagree with the assessment that our moral standing has been damaged," he said. "It may be damaged amongst some of the elite, but people still understand America stands for freedom, that America is a country that provides such great hope."
The Heritage Foundation's Gardner said that "the anti-Bush rhetoric is harsh and unwarranted" and that the anti-American reaction in Europe and in the Middle East was an inevitable result of "the U.S. flexing its muscles."
And the controversy over the war in Iraq and the the world's negative views of Bush often overshadow many of the positive things Bush achieved during his presidency -- particularly the anti-AIDS and anti-malaria efforts he has championed.
"The future impression of Bush will be more favorable," Gardner said.
Bush himself appears to face his future judges. While admitting he has made mistakes, he did not express any regrets about the fundamental decisions of his presidency.

"In terms of the decisions that I had made to protect the homeland, I wouldn't worry about popularity ... because all these debates will matter naught if there's another attack on the homeland," Bush said during his final news conference as president Monday.
"You stand by your decisions and you do your best to explain why you made the decisions you made," he said.
E-mail to a friend

All About George W. Bush • Iraq War • September 11 Attacks • Terrorism