By Bill Schneider
CNN Senior Political Analyst





WASHINGTON (CNN) -- How long will the voters give President Barack Obama to turn the economy around? The president-elect is already laying down markers: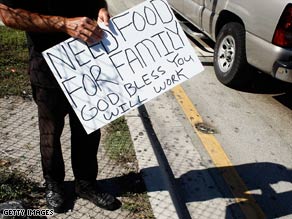 How much patience will the American people have as Barack Obama tries to bring the economy back to life?
-- Last month, Obama pledged, "We are going to create 2.5 million jobs."
-- This month, he laid down another marker: "That is how we will achieve the Number One goal of my plan, which is to create 3 million new jobs."
-- And then another: "The report confirms that our plan will likely save or create 3 to 4 million jobs. Ninety percent of these jobs will be created in the private sector."
Obama is urging patience. "It's going to take some time," he told ABC News. "It's not going to happen overnight."
So, just how long will the voters give him? Let's look at the experience of other new presidents elected in bad times.
When Ronald Reagan took over, the unemployment rate was just over 7 percent. When Bill Clinton took over, the unemployment rate was just over 7 percent. What's the unemployment rate now, when Barack Obama's about to take over? Just over 7 percent.
During Reagan's first two years, the economy got a lot worse -- double-digit unemployment by the end of 1982, at the time of the midterm election.
Reagan tried to limit the damage, telling voters to "stay the course." His party lost 26 House seats but no Senate seats in the congressional elections.
It was a warning. The voters were getting impatient. Things got better during the next two years. Unemployment fell to where it was when Reagan took office. But inflation, which was a huge problem in those days, was cut by two-thirds.
Republicans said it was "Morning in America." Reagan was easily re-elected.
During Clinton's first two years, the economy improved. Unemployment went down. But the voters still turned against the Democrats in the 1994 midterms and threw them out of power in Congress.
What were they angry about? Clinton's health-care plan. Tax hikes. The issue of gays in the military. The assault weapons ban. The economy, not so much. But unemployment continued to go down and after four years, the economic turnaround paid off. Clinton was easily re-elected.
Conclusion? Obama can expect midterm grades in two years, and final grades at the end of four. Another conclusion: Grades are based on many subjects, not just the economy.
In 1982, Reagan's economic grades were terrible but he was doing well in other subjects. In 1994, Clinton was doing pretty well on the economy, but other subjects brought his party down.
E-mail to a friend

All About U.S. National Economy • Unemployment Rate • Barack Obama • Ronald Reagan • Bill Clinton