Editor's note: Campbell Brown anchors CNN's "Campbell Brown: No Bias, No Bull" at 8 p.m. ET Mondays through Fridays. She delivered this commentary during the "Cutting through the Bull" segment of Tuesday night's broadcast.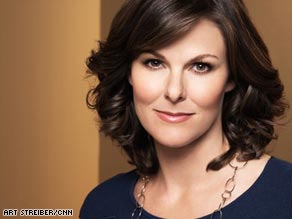 CNN's Campbell Brown says President Bush honored the world leaders who were his loyal friends.
(CNN) -- On Tuesday, President Bush, in one of his final acts in office, awarded the Presidential Medal of Freedom to three foreign leaders.
It was a striking ceremony to watch, with President Bush giving our country's highest civilian honor to some of his most steadfast friends from abroad, including former British Prime Minister Tony Blair and former Australian Prime Minister John Howard. Colombian President Alvaro Uribe was the other leader to be honored.
Now, Blair and Howard certainly were leaders with a wide range of accomplishments, but it was clear Tuesday that they were being honored by our president for their loyalty.
Both men were President Bush's most unwavering allies in the war on terror, and especially on Iraq.
It is not the first time the president has used the Presidential Medal of Freedom to reward loyalty.
It is his prerogative. As president, he can give the medal to anyone he chooses. But it was a striking image Tuesday.
We don't know how history will judge these three, but their people already have.
'No Bias, No Bull'
Get the latest on the day's main events.
8 ET Monday through Friday

Blair, in part because of his loyalty to Mr. Bush and his support for the war, resigned from office with his approval ratings in the tank.
Howard, too, was soundly defeated, partly for being what Mr. Bush Tuesday called "a sturdy friend in time of need."

And this president giving the honors leaves us with an approval rating of 27 percent, with the vast majority of the country counting the minutes until the president-elect takes office.
The opinions expressed in this commentary are solely those of Campbell Brown.
E-mail to a friend

All About George W. Bush • Tony Blair • John Howard