(CNN) -- The commander in chief's priority is preventing another terrorist attack in the United States, President Bush told CNN's "Larry King Live" Tuesday.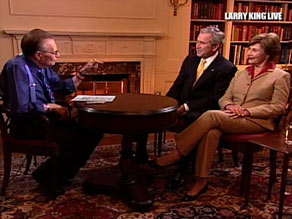 President Bush and first lady Laura Bush sit down with CNN's Larry King Live on Tuesday.
"The most important job I have had -- and the most important job the next president is going to have -- is to protect the American people from another attack," Bush said.
Accompanied by first lady Laura Bush and engaging in a wide-ranging conversation with King, Bush also said that his administration has been involved in stopping specific threats against the United States since the September 11, 2001, terrorist attacks.
"We've learned a lot of information about al Qaeda that we didn't know before," Bush said of intelligence activities during his tenure as president. "We've stopped some specific threats -- we're decimating [al Qaeda's] leadership."
He did not offer specifics, but he did offer a self-assessment of his leadership in national security post-9/11.

Watch Bush talk about the aftermath of 9/11 »
"I told the American people I wouldn't tire and I wouldn't falter, and I haven't," the outgoing president said.
When discussing the nation's economic slump, Bush cautioned his successor "not to become an economic forecaster once he gets to be president."
King and Bush discussed Obama's predictions for a bad year ahead for the U.S. economy and King asked Bush, "That's not a good idea to say?"
"I don't think so. I think he can say it's going to be a tough period, but to predict what the economy is going to do ... it is going to be bad. How bad? How long?" Bush responded. "What he ought to be saying -- and I know he feels this way -- is he's going to take the steps he thinks are necessary to get us back on the road to recovery and we will recover."
Bush said he is looking forward to the inauguration of President-elect Barack Obama Tuesday, describing it as "a historic moment for the country."
Asked by King if he liked Obama, Bush replied, "I do. I do like him. You'd like him, too."
But Laura Bush said she took some of Obama's critiques of her husband personally.
"Were you angry at it?" King asked.
"Yes, sort of. George didn't really even know about it because he didn't really watch it that much," Laura Bush said, laughing.

Watch Laura Bush express her disapproval »
"So what's new?" Bush piped in. "When you make big decisions and tough calls, you're going to get criticized."

"During the course of this presidency, I've been disappointed at times by the silly name-calling that goes on in Washington -- it's really not necessary," Bush said.
"I've done my best, though, to make sure I didn't bring the presidency down to that level."
E-mail to a friend

All About George W. Bush • Laura Bush • Barack Obama