From Evan Glass and Dana Bash
CNN





WASHINGTON (CNN) -- Roland Burris said Tuesday that he "can understand" the position of those who objected to his appointment to fill President-elect Barack Obama's U.S. Senate seat, but he always knew that the appointment was legal.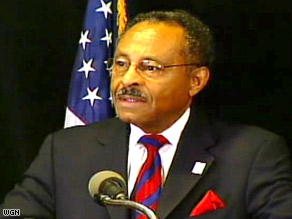 Senate-designate Roland Burris, D-Illinois, said he is humbled by news that he will be seated.
"They were concerned about the rules and the regulations, and who comes to that body," the former Illinois attorney general told CNN's "American Morning."
"That person must come with the right and proper credentials because that is the most exclusive body in the nation and probably one of the most powerful bodies in the world," Burris said.
Senate Democratic leaders decided Monday that Burris presented the appropriate credentials for his Senate appointment and, barring Republican objections, should be sworn in and seated later this week.
An exact time and date have not been set.
Some Senate Democrats had argued that Burris should not be seated because he was appointed by embattled Illinois Gov. Rod Blagojevich, who has been impeached on corruption charges and is accused of attempting to sell the seat vacated by Obama.
Illinois Secretary of State Jessie White sided with those Democrats and did not sign the appointment certificate. In refusing to seat Burris last week, the Senate cited a 125-year-old Senate rule requiring the secretary of state's signature to certify an appointment.
But the Illinois Supreme Court ruled Friday that White does not have to sign off on the appointment for it to be valid.
Burris told CNN that he was always certain that his appointment "was legal and it met all constitutional and statutory requirements."
"Based on that, I certainly pushed forward," he said. "It's also my interest and desire to be a public servant. As a young kid growing up in a small southern Illinois town, I set two goals at the age of 16. One was to be a lawyer, and the other goal was to be a statewide elected official of Illinois."
Burris said Monday he is "truly humbled and honored" to learn he will be seated in the Senate later this week.
Earlier that day Senate Majority Leader Harry Reid and Illinois senior senator and Assistant Majority Leader Dick Durbin said the Senate would accept Burris' credentials.
On Tuesday, Burris said his qualifications made the difference.
"I think the turning point came when people looked at my credentials and saw my desire to serve," he said.
"I knew as the former attorney general of my state that my appointment was legal."
In a joint statement, Reid and Durbin said Burris would "be accorded all the rights and privileges of a Senator-elect," adding that "barring objections from Senate Republicans, we expect Senator-designee Burris to be sworn in and formally seated later this week."
A spokesman for President-elect Barack Obama's transition team said Obama knows Burris and has a "high regard for him."
Some Senate Democrats, however, said Burris should not be seated because he was appointed by Blagojevich. The Illinois House voted Friday to impeach Blagojevich, who has denied any wrongdoing.
Burris said Tuesday that it's too soon to say whether he will run for election to the Senate in 2010.
E-mail to a friend

CNN's Ed Hornick contributed to this report.
All About Roland Burris • Rod Blagojevich • U.S. Senate • Illinois