By Alexander Mooney
CNN






WASHINGTON (CNN) -- The 111th Congress has just barely begun as Senate Republicans brace for more grueling elections in 2010 that threaten to further weaken the party's influence in Congress.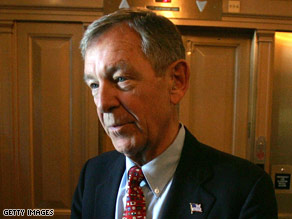 Sen. George Voinovich, a Republican from Ohio, will retire from the Senate when his term is up in 2010.
The latest setback for the party came Monday, when Ohio Sen. George Voinovich -- the 72 year-old two-term GOP senator -- announced he will not seek reelection in 2010. That leaves Republicans with a highly vulnerable seat in a perennial swing state that has drifted Democratic in the last two elections.
Voinovich's decision sent Ohio Republicans and Democrats scrambling ahead of what will likely be a competitive primary on both sides, and virtually guarantees the GOP will have to spend significantly more money defending a seat that otherwise would likely have been a safe bet.
Democrats control 58 seats in the Senate -- 59 if Al Franken's lead in Minnesota's recount withstands Norm Coleman's legal challenge -- moving the party close to the 60 seats needed for a filibuster-proof majority.
"Republicans are starting the cycle on the defensive once again, it's a familiar but uncomfortable position," said Nathan Gonzalez of the Rothenberg Political Report.
Voinovich is the most recent in a string of four Republican senators -- some from crucial battlegrounds states -- to announce his retirement, rattling Republicans in an election cycle that already promises to be difficult.
Just last week, longtime Sen. Kit Bond, R-Missouri, unexpectedly announced he would not seek reelection after more than two decades in the chamber, abruptly setting the stage for a competitive race in a state that 2008 Republican presidential nominee John McCain carried by less than 1 percentage point.
Sen. Mel Martinez, R-Florida, the once-popular Cuban-American who has seen his approval ratings slump of late, also recently announced he would not seek reelection. Jeb Bush, the popular brother of President Bush, announced last week he would not enter that race despite the urging of national Republicans.
Two-term Kansas Sen. Sam Brownback, a former Republican presidential candidate, is also retiring in 2010 to run for governor. While Kansas is traditionally considered a red state, Democrats are buoyed by President-elect Barack Obama's strong performance there and the prospect that the state's popular Democratic governor, Kathleen Sebelius, may enter the race.
"A party would almost always have incumbents run for reelection rather than open seats, especially in swing states," said Quinn McCord, the executive editor of the Hotline. "These are exactly the type of seats Democrats have won the past two cycles when they have opened up."
In all, Republicans must defend 15 incumbents in addition to the four open seats next year, a number that could increase if Sen. Kay Bailey Hutchison, R-Texas, decides to mount a 2010 gubernatorial bid.

Watch as members of the 111th Congress are sworn in »
Meanwhile, Democrats have to defend 15 incumbents and two seats for which special elections are expected to be held. Delaware will hold a special election for Vice President-elect Joe Biden's seat and New York will hold one if Sen. Hillary Clinton is confirmed as the next secretary of state.
More sobering for Republicans is the fact that few Democrats currently appear vulnerable, except perhaps for Senate Majority Leader Harry Reid, whose current approval numbers are slumping in his home state of Nevada.
But John Feehery, a Republican strategist and CNN contributor, said the GOP shouldn't panic just yet, especially considering Democrats control all three branches of government and the economy shows little signs of recovering in the near future.
"A lot depends on what happens in the next year with the economy and how [President-elect] Obama does -- That's the great unknown." Feehery said. "We've had two really bad cycles in a row, and the Democrats are running everything now."
Mid-term elections have historically not been kind to the party of the sitting president. One exception was 2002 during Bush's first term, when Republicans picked up seats in both houses.
Other Republicans are optimistic the wave of recent retirements offers the GOP a chance to move beyond its old guard and recruit fresh faces to inject the party with new energy.
"The reality is Bond and Voinovich both would have won reelection, but they would have been tough. I'd rather have someone who is 110 percent committed, gung-ho, has the energy, and wants to do that, rather than someone who is going through the motions," a Senate Republican leadership aide said.
Senate Republicans are also eyeing one of Colorado's Senate seats, recently vacated by Obama's Interior Secretary-designate Ken Salazar. To fill the remaining two years of the term, Colorado Gov. Bill Ritter, a Democrat, appointed Denver School Superintendent Michael Bennet -- a man who has never run for statewide office before.
"Republicans were handed a gift in Colorado," the GOP leadership aide said. "He's not someone who has run a statewide race before or known around the state. He's not tested."
Senate Democrats also face a few roadblocks: Their top picks in Iowa and Arizona to take on Republican incumbents there have both been named to Obama's Cabinet -- Arizona Gov. Janet Napolitano and former Iowa Gov. Tom Vilsack.

Still, much of the GOP's outlook will ultimately depend on how well Texas Sen. John Cornyn -- the man tasked to head the Republicans Senate Campaign Committee -- can recruit strong and credible candidates amidst a playing field that clearly favors the opposition.
"The map itself is working against Republicans, it's not clear yet where the vulnerable Democrats are," McCord said.
E-mail to a friend

All About U.S. Senate • Republican Party