By Martina Stewart
CNN





WASHINGTON (CNN) -- Has President-elect Barack Obama found the person to entrust with his predominantly online network of millions of supporters?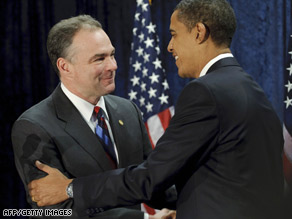 Barack Obama picked Virginia Gov. Tim Kaine to lead the Democratic National Committee.
Obama's announcement of Virginia Gov. Tim Kaine to lead the Democratic National Committee suggests the president-elect has plans to reshape his party to resemble Obama's modern, grassroots-oriented presidential campaign.
"Now is the time ... to remake the Democratic Party to meet the challenges of the 21st century," Obama said recently. "And no one is better suited to help lead this effort than ... my good friend Gov. Tim Kaine."
During the campaign, the Obama operation garnered approximately 13 million e-mail addresses, a million sign-ups for the Obama camp's text-messaging service, 2 million participants in the campaign's proprietary social network on MyBarackObama.com, and 5 million supporters on more than 15 other social networking sites including Facebook, according to a report by Washingtonpost.com.
Contact information for Obama's supporters could be used to motivate them to come out and show their support for his policies or to encourage grassroots organizing.
Before tapping Kaine, Obama's presidential campaign had not turned over any of its lists to the DNC. Asked whether Obama's supporter network would be given to the DNC now that Kaine was taking over, the DNC deferred to the Obama camp.
And the campaign was noncommittal when asked whether it plans to turn over the e-mail list and other supporter contact information to Kaine.
Don't Miss
"The campaign has assembled a team of organizers from battleground states to work with our volunteers and allies on the next steps for the organization," a campaign statement sent to CNN said. "It is an open dialogue -- no structural decisions have been made."
Observers say that it would be a mistake to let the network lie fallow and not be used in any way during Obama's presidency.
"That'd be insane not to use this in some capacity to govern," said Matt Lewis, a conservative blogger with AOL's Political Machine and a writer for conservative Web site Townhall.com.
Lewis suggested that, like Ronald Reagan, Obama should try to circumvent the traditional filter of the media and use his ability to contact directly the millions who supported him. Where Reagan used television, Obama should use the Internet, Lewis said, pointing to the president-elect's dissemination of his weekly addresses as YouTube videos as one example.
Legal restrictions probably will prohibit use of the campaign's contact lists directly by Obama's White House, but turning the lists over to a Kaine-helmed DNC is still an option.
Given the potential for Obama's network to vastly increase his party's network of contacts with voters, "it would be antithetical for Obama not to share" said Andrew Rasiej, the founder of the Personal Democracy Forum and the co-founder of the Web site TechPresident.com.
While the Republican Party has long had direct mail backed up by a database of voter information, Rasiej points out that Obama's list, when combined with the Internet, offers Democrats an easy way to communicate efficiently with their base -- something they have not had on terms comparable with the GOP.
And the breadth of Obama's contacts also has the potential to put to rest a division within Democratic ranks between the likes of former DNC Chairman Howard Dean, who advocated pursuing an ambitious "50-state strategy," and those who wanted to focus on historically battleground states.
"What Dean was getting at," says Laura Quinn, CEO of Catalist, a database vendor affiliated with progressive organizations, "is we can think bigger than just 12 states."
But the use of Obama's lists is not without its challenges. "It's a lot easier to get 13 million people excited about one thing like electing a particular person," Rasiej said. "That's very different from getting them to switch to new, more energy-efficient light bulbs or to stop driving their SUVs."
In the hands of an Obama ally like Kaine, Rasiej suggested the Obama network could be used to invite people to participate in community service, encourage individuals to run for office, or to rally supporters to encourage Democratic legislators to support Obama's agenda. Lewis suggested Obama's vast network might be used to communicate with the public about legislation once Obama is inaugurated. iReport.com: What does Obama's presidency mean to you?
Should Obama choose Kaine to take control of his supporter network, Kaine stands ready to promote the vision of grassroots involvement and activism that powered Obama to the White House.
"You don't have to be a big donor for your donation to matter," the Virginia governor said Thursday. "You don't have to be a PhD or a foreign policy expert for your idea to matter. And, you don't have to be a full-time campaign worker for your effort to matter."
"I'm going to do my best for my friend. I consider Barack a great friend. ... We'll do great work together," added Kaine.
E-mail to a friend

All About Barack Obama • Tim Kaine • Democratic National Committee