By Ruben Navarrette Jr.
Special to CNN






Editor's note: Ruben Navarrette Jr. is a nationally syndicated columnist and a member of the editorial board of the San Diego Union-Tribune. Read his column here.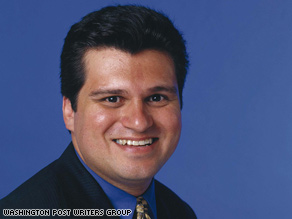 Ruben Navarrette says Homeland Security nominee Janet Napolitano hasn't shown leadership.
SAN DIEGO, California (CNN) -- There's a name for public officials who are willing to fight the powerful in defense of the weak, even if it jeopardizes their careers: leaders.
Over the years, that's not a word that I've often heard used to describe Arizona Gov. Janet Napolitano, President-elect Barack Obama's choice for secretary of Homeland Security.
Napolitano is an able politician, but her leadership skills have long been in doubt. That is especially true when it comes to the radioactive issue of immigration, which is sure to come up during her confirmation hearing Thursday.
Strangely, it is on that very issue that Napolitano is now getting high marks from some of the national media. A New York Times editorial recently described her as "the most powerful voice of reason in a state that continues to hatch some of the dumbest, cruelest ideas anywhere for getting tough on immigrants."
It's true that Napolitano did veto some dumb and cruel pieces of legislation pushed by Republican legislators in Arizona. She also criticized the folly of trying to build a wall that was tall enough or long enough to end illegal immigration.
On the other hand, she was also the first governor to declare a state of emergency on the U.S.-Mexican border. And she signed one of the toughest laws in the country to crack down on those who employ illegal immigrants.
Napolitano has tried to find the middle ground on the immigration issue, and it actually speaks well of her that she has managed to alienate the extremes on the right and the left.
Don't Miss
But what concerns me is something we haven't heard much about: Napolitano's record before becoming governor. I covered that part of the story a decade ago while working as a reporter and metro columnist at the Arizona Republic.
In the 1990s, Napolitano was serving as a U.S. Attorney appointed by President Bill Clinton.
It was during her tenure that Napolitano came face-to-face with what came to be known as the Chandler roundup, the kind of moral crisis that could have ended a promising political career before it began.
In July 1997, city officials in the Phoenix suburb of Chandler, Arizona, paired up local police officers with U.S. Border Patrol agents in an attempt to rid the city of illegal immigrants. They wound up making a mess of things.
Let's get one thing straight. As the son of a retired cop who spent 37 years on the job, I don't need lectures from anyone on the importance of enforcing the law. And so I have no problem with Border Patrol agents rounding up and deporting illegal immigrants. After all, that's their job.
However, I do have a problem with local cops, who lack the skills and training to determine whether individuals are in the country illegally, running around and playing Border Patrol agent.
I realize that, for many Americans, one badge is as good as another. But that's wrong. There's such a thing as jurisdiction. There's a reason you don't see FBI agents handing out speeding tickets.
Besides, local and federal law enforcement are governed by different codes of conduct. Local police officers have one standard for searches and seizures: probable cause. Federal immigration officials usually have a lesser standard: reasonable suspicion. So in a joint operation, which standard applies?
In Chandler, they didn't have a clue. The four-day operation resulted in the apprehension and deportation of more than 400 illegal immigrants. But, the net was cast so wide that it ensnared anyone who looked like an illegal immigrant.
In the Southwest, that meant anyone who looked Hispanic -- i.e., brown skin, Spanish accents. There was eventually a state investigation into the roundup, and during that inquiry, one Chandler police officer told investigators that the tell-tale sign for him was a "smell" common to the undocumented.
Scores of U.S.-born Hispanics, including some whose families had lived in Arizona for five or six generations, were harassed, detained and asked to produce birth certificates or citizenship papers. It was racial profiling at its ugliest and as "un-American" as you can get.
And where was Napolitano during all this?
For the most part, she was in hiding. As the U.S. Attorney, she could have launched her own investigation, and even just used her bully pulpit and publicly condemned the incident as a violation of the constitutional rights of U.S. citizens. In fact, it would have been no great stretch to do so given that one of the violators was a federal agency, the Border Patrol.
Instead, Napolitano ducked for cover and simply referred the matter to the Justice Department, where no action was ever taken.
You see, in 1998, Napolitano ran for state attorney general, and it wasn't considered a wise political move to take a position that put her at odds with law enforcement for the sake of illegal immigrants who can't vote.
Gotcha. I was just seeing if you were paying attention. This was never about the rights of illegal immigrants. It was about the rights of U.S.-born Hispanic citizens, chiefly the right to be left alone in your own country when you've done nothing wrong and not be singled out because of skin color, accent or -- good heavens -- smell.
The Chandler Roundup was an early leadership test for Janet Napolitano. She failed. And, as far as I know, she has never had the courage to publicly acknowledge the failure.
Granted this was 10 years ago. People change and politicians grow in office. Maybe given a similar circumstance today, Napolitano would do things differently. Yet she should be asked about her entire record during her confirmation hearings this week. If Napolitano is confirmed and takes the helm of the hyper-political Department of Homeland Security, she'll probably be tested again.
Let's hope she has learned her lesson and that, next time, she does the right thing no matter what the cost.
The opinions expressed in this commentary are solely those of Ruben Navarrette Jr.
E-mail to a friend

All About Janet Napolitano • Immigration • Border Control and Customs