WASHINGTON (CNN) -- Hillary Clinton will tell Senate members Tuesday that her goals as secretary of state, if she is confirmed, will include a renewal of American leadership, a official with President-elect Obama's transition team said.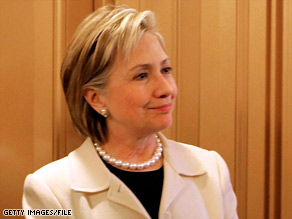 Hillary Clinton is scheduled to testify Tuesday during a hearing on her nomination for secretary of state.
Clinton also will say she'll aim for a revitalization of diplomacy as a means of promoting the nation's security interests and advancing its values, the transition official told CNN Monday.
Clinton is due to testify during her confirmation hearing before the Senate Foreign Relations Committee on Tuesday.
"We expect that she will reiterate that she and the president-elect believe that America must be smarter to be stronger," the official said. "Sen. Clinton believes in 'smart power' -- using all the tools of foreign policy that are at our disposal.
"She also believes, as does the president-elect, that diplomacy must be at the forefront of U.S. foreign policy, and that it must be balanced with military power in ways that work for the 21st century."
Clinton agrees with President-elect Barack Obama, according to the official, "that our country must be strong at home in order to be strong abroad -- that our own progress depends on repairing our economy and working for shared economic growth and prosperity globally."
Clinton "will stress the importance of bipartisanship, and of decision-making that is based on a marriage of principle and pragmatism, not ideology," the official said.
The committee's chairman, Sen. John Kerry, D-Massachusetts, will open the hearing, followed by remarks by Sen. Dick Lugar, R-Indiana, according to committee spokesman Frederick Jones.
Democrat Chuck Schumer, New York's senior U.S. senator, will introduce Clinton, who will then make her opening statement.
Kerry anticipates a smooth confirmation process that would likely be completed in a day, Jones said.
But he predicted that committee members would have "plenty of questions" about donors to former President Bill Clinton's foundation and his international activities.
Meanwhile, senior State Department officials told CNN that Secretary of State Condoleezza Rice and National Security Adviser Stephen Hadley were hosting a dinner Monday for Hillary Clinton and retired Marine Gen. James Jones.
Jones is Obama's pick for national security adviser.
E-mail to a friend

CNN's Jessica Yellin and Elise Labott contributed to this story.
All About Hillary Clinton • Barack Obama • U.S. Senate