By Bill Mears
CNN Supreme Court Producer





WASHINGTON (CNN) -- The U.S. Supreme Court said Friday that it will hear a challenge to a key provision of the landmark 1965 Voting Rights Act.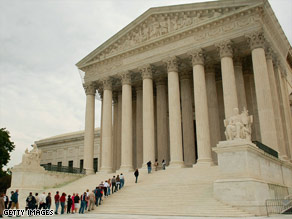 The U.S. Supreme Court could hear arguments on the voting rights case in April.
The case involves a small utility board in Texas that wanted to move its municipal elections from a garage to a public school. The change required federal approval.
Now the Supreme Court will decide whether states must bow to continuing federal oversight over how its residents cast ballots.
The justices announced Friday that they will hear a challenge over whether the Voting Rights Act's "pre-clearance" provision can continue to be enforced, even in areas where it could be argued racial discrimination no longer exists.
The law protects minority voters from governments that would set unfair or unconstitutional barriers to the polls.
Oral arguments likely will be in April.
The appeal will be a major test case of federal authority, and the extent to which courts may consider vestiges of voting discrimination that may still exist nationwide, potentially keeping some minority voters disenfranchised.
The Bush administration has led the legal fight defending the law, but the case likely will be argued by lawyers named by President-elect Barack Obama.
He and his attorney general have the option of altering the legal strategy formulated by Bush officials.
E-mail to a friend

All About U.S. Supreme Court • Elections and Voting • Racial Issues