WASHINGTON (CNN) -- President-elect Barack Obama's choice for labor secretary, California Rep. Hilda Solis, promised to "improve the opportunities for hardworking families" as she began her confirmation hearings on Friday.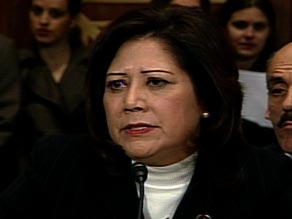 Labor secretary-designate Hilda Solis appears before a Senate committee Friday.
Appearing before the Senate Health, Education, Labor and Pensions Committee, Solis said, "My vision for the Department of Labor is rooted in who I am" and highlighted the fact that she is the daughter of two union members.
Solis is expected to easily be confirmed by the Senate and was warmly received by the Democratic members of the committee.
"This is a woman of common sense, and I believe very sound judgment. She understands the balances, and I think she very well understands the balance as Secretary of Labor between management and labor issues," Sen. Dianne Feinstein, D-California, said. "She obviously is going to fight for worker rights, but after all, this is the position of secretary of labor."
Solis, a four-term congresswoman from Los Angeles, California, is generally considered to be one of the most liberal members of the House.
She served eight years in the California legislature and also worked in former President Jimmy Carter's administration. She unseated former Rep. Matthew Martinez in a bitter Democratic primary in 2000.
While Solis is expected to be easily confirmed, many of the labor issues she will likely grapple with remain a heated point of contention between Obama and congressional Republicans.
Among other things, Obama strongly supports the Employee Free-Choice Act, which is designed to make it easier for unions to organize in the workplace. Conservatives are vehemently opposed to the legislation, which the president-elect is expected to push for this year.
Shortly after the news broke that Solis would be joining Obama's team, labor leaders issued press releases praising the president-elect's choice to head the Department of Labor.
"The daughter of two immigrant workers and union members ... she will be a secretary of labor working men and women can finally count on to stand up and fight for them," said Andy Stern, president of the Service Employees International Union.
Don't Miss
AFL-CIO President John Sweeney said the nation's largest organized labor organization is "thrilled" that Solis has been tapped to be the next labor secretary.
"We're confident that she will return to the Labor Department one of its core missions -- to defend workers' basic rights in our nation's workplaces," Sweeney said after learning Solis' nomination.
A number of conservatives, however, were quick to criticize the choice of Solis.
"Congresswoman Solis is a die-hard forced unionism activist who apparently believes that all workers should be gathered into union collectives whether they like it or not," Mark Mix, head of the National Right to Work Committee, said after learning of Solis' nomination.
"Throughout her political career, she has unfailingly carried water for Big Labor and voted in favor of every forced unionism power grab that has come before her," he said.
Solis is the second prospective member of Obama's cabinet to begin the Senate confirmation process. On Thursday, Health and Human Services secretary nominee Tom Daschle testified before committee.
E-mail to a friend

All About Hilda Solis • U.S. Department of Labor • Jobs and Labor