(CNN) -- President-elect Barack Obama declared has war on the economic meltdown, but solving the crisis will also depend on the ability to restore confidence in the nation's consumers.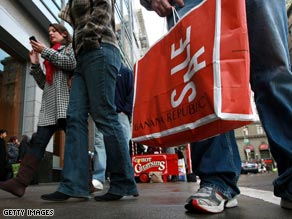 The huge lack of consumer confidence is hurting the economy, New York Mayor Michael Bloomberg says.
"At the moment, there is just such lack of confidence in the economy in this country -- people are afraid that they're going to lose their house, even if they don't. People are afraid they're going to lose their job, even if they don't," New York Mayor Michael Bloomberg said Thursday.
"They've stopped spending. They buy a hamburger rather than a steak. They buy a glass of wine rather than a bottle. They make that car last one more year. That's not good for the economy, even if it's good common sense when you are going into a difficult period," he said.
Consumer confidence has eroded to a record low -- partly because of the combination of a wave of job losses last quarter and the growing financial crisis, said Hussein Saddique, a business producer for CNN.
And when people aren't confident in the economy, they're less likely to pour their paycheck into it.
Obama on Thursday made the pitch that trust could be restored if Congress passes his $775 billion recovery package, but he offered few details about the plan.
Bloomberg called the speech the "opening salvo in what will be a long, difficult battle for him to try to reform the way this country spends money and get the economy going again."
Asked how high a mountain the president-elect has to climb to restore confidence in the markets, CNN business reporter Christine Romans said restoring confidence depends on Obama's ability to lead.
"He can't climb the mountain. He's got to get in the helicopter and go to the top," she said.
"It's not something that we've ever seen before. And you can't overstate just how difficult it is. ... [His speech] was a very eloquent 20 minutes or something, but eloquence isn't going to do it. It's going to have to be leadership," she said.
In order to revive consumer confidence, Saddique said, the economy needs to restore the flow of credit and boost the housing and job markets. That's what the incoming Obama administration is hoping to do with the stimulus package it is proposing.
"The idea is to inject funds into the system and grease the engine that keeps our economy humming," Saddique said.

Watch how financial woes are taking a deadly toll on some »
Getting that stimulus plan passed should be the top priority for Obama, said Michael Crowley, a senior editor for The New Republic magazine.
"There is a broad consensus among economists right now. We need a stimulus fast, and we need it big," he said.
"And Obama has already done the right thing by signaling that he's going to do that, to raise confidence, to let the U.S. economy and the global economy know that America's going to inject money into the system, but they have got to get rolling and do this as fast as they responsibly can."
Republicans say they're encouraged the incoming president seems willing to work with them, but they're raising concerns about the price tag, on top of a $1.2 trillion budget deficit.
Some top Senate Democrats expressed serious concerns of their own about Obama's push for about $300 billion in tax breaks, including payroll tax cuts and a $3,000 tax credit to businesses for every job they create.
Some Democrats warned that Obama's tax cuts will have the same disappointing effect as last year's rebate. People will save the money or use it to pay debt, not jump-start the economy by spending it, they say.

Obama issued a dire warning Thursday, telling the country things will probably get worse before they get better. But as he called for Congress to take "dramatic action" on his economic recovery plan, he had an underlying message of hope.
"It will take time, perhaps many years, but we can rebuild that lost trust and confidence. We can restore opportunity and prosperity," he said. "We are still the nation that has overcome great fears and improbable odds. If we act with the urgency and seriousness that this moment requires, I know that we can do it again."
E-mail to a friend

CNN's Kristi Keck contributed to this report.
All About Barack Obama • National Economy