(CNN) -- Illinois' highest court validated the appointment of Roland Burris to fill President-elect Barack Obama's vacant U.S. Senate seat Friday, ruling that the Illinois secretary of state does not have to sign off on it.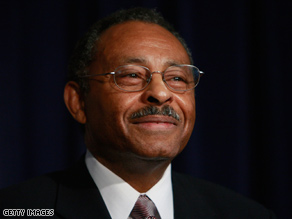 An opinion favoring Roland Burris says a Senate rule doesn't remove a power that the Constitution gives states.
The court's opinion states that "no further action is required by the secretary of state or any other official to make the governor's appointment of Roland Burris to the United States Senate valid under Illinois law."
In a victory for embattled Illinois Gov. Rod Blagojevich, who appointed Burris to the Senate seat, the Illinois court stated that "no explanation has been given as to how any rule of the Senate, whether it be formal or merely a matter of tradition, could supersede the authority to fill vacancies conferred on the states by the federal constitution."
Senate Majority Leader Harry Reid said Wednesday that he was waiting for a ruling from the Illinois high court on whether Illinois Secretary of State Jesse White needs to sign Burris' certificate of appointment.
Aides to Reid said his lawyers were reviewing the ruling, particularly a passage that suggests an alternative way to authenticate Burris' certificate.
Majority Whip Dick Durbin, the No. 2 Democrat in the Senate, said that he still thinks White's signature is required on Burris' certificate.
Durbin, the senior senator from Illinois, said he did not see a way around the Senate rule, dating to 1884, that a certificate must bear the secretary of state's signature.
Don't Miss
The rule has never been waived to seat a senator, Durbin said.
"The rules of the United States Senate are clear. ... At this point, we've clearly reached an impasse," Durbin said in Chicago, Illinois.
Durbin said he thought the best way forward would be to suspend the process of seating Burris until the impeachment trial of Blagojevich concludes in the Illinois Senate.
If Blagojevich is removed from office, the new governor -- the current lieutenant governor, Pat Quinn -- could make an appointment to the Senate, possibly Burris.
White has declined to sign the certificate, siding with some Senate Democrats who say Burris should not be seated because of the cloud over Blagojevich, who has been accused of trying to sell the open seat.
Burris, in turn, asked the Illinois court to force White to sign the certificate by ruling that White's signature is, in effect, nothing more than a ceremonial, nondiscretionary government action.
White seemed to agree, saying that he thought Burris could be appointed without his signature on the certificate.
"My signature is not necessarily required for the Senate to place the gentleman in the seat," White said Tuesday during a radio interview. "It carries a lot of weight, but my signature is mostly ceremonial, rather than it being a point of law."
On Thursday, appeared before a panel that was weighing whether to impeach Blagojevich and denied any quid pro quo with Blagojevich for his appointment.
"I can, for this committee, state that there was no legal, personal or political exchange for my seat," Burris told the panel.
Burris also said he had no conversations with Blagojevich before the governor's arrest about his desire to take the seat vacated by Obama.
The former state attorney general appeared before an impeachment committee of legislators in Springfield, Illinois, to explain his ties to the governor, who was arrested December 9 after federal prosecutors alleged that Blagojevich had tried to sell the seat for money and influence.
Later Thursday, the panel unanimously recommended impeaching Blagojevich. On Friday, the full Illinois state House of Representatives took up the issue and voted to impeach the governor.
Before Thursday's hearing, Illinois Republicans had said they wanted to know whether Burris was "paying to play." GOP lawmakers pointed to state records showing that Burris, a Democrat whom Blagojevich appointed on December 30, and his lobbying firm contributed more than $20,000 to the governor's political campaigns.

Blagojevich has not been indicted. He and Burris say the appointment is legal.
In a written affidavit given to the impeachment panel, Burris said he had one limited conversation with the governor about the Senate seat before he was appointed. And that conversation, he said, was initiated by a Blagojevich attorney.
E-mail to a friend

CNN's Dana Bash contributed to this report.
All About Rod Blagojevich • Roland Burris • Springfield (Illinois)