By Gloria Borger
CNN Senior Political Analyst






WASHINGTON (CNN) -- Yes, it's early. Very early. Barack Obama hasn't even moved into Blair House yet.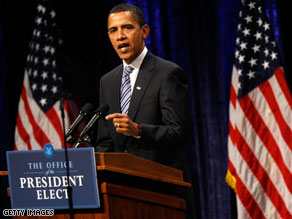 Some key Democrats are balking at President-elect Barack Obama's economic stimulus plan.
But it's time -- for an intervention.
How else to confront the oddly self-destructive behavior of congressional Democrats? How else to figure out why they seem intent on depriving their new president of a swift -- and truly bipartisan -- victory on his all-important economic stimulus package?
It's as if they haven't quite figured out what the public meant when it voted to change business as usual. Or that sometimes, in order to get something done, the perfect is the enemy of the good, as the cliché goes. Or to effectively cripple the Obama presidency in its infancy would be, er, bad for them.
Sure, the griping Democrats are having visions of President Bill Clinton's early deficit reduction plan which -- while a success -- made lots of them feel like Republicans. And they don't want to repeat the Republican rubber-stamp mind-set of blindly following a president for the last eight years -- into an unpopular war, an economic crisis, and finally, over the cliff.
What else could possibly have prompted Senate Majority Leader Harry Reid to make the point that, "I do not work for Barack Obama. I work with him." Or, as my kids used to say, "You're not the boss of me." (Reid is wrong; my kids were right.)
This is not to say that some of the Democratic complaints may not be perfectly well-founded and justified. Maybe corporate tax breaks for companies hiring new employees isn't the best of ideas, as Sen. John Kerry suggests, because these companies might hire new people anyway. And there are bound to be differences over the best ways to spend the huge federal pot of $775 billion or so over two years, or how to cut taxes as part of the plan.
But here's the important part: Both spending and tax cuts have to be part of any stimulus package. As one top transition aide explains to me, "It's hard to spend that much money over two years effectively without doing both."

More on Obama's stimulus plan »
If there were eight years in which to spend the money, it might be different. But the new administration is looking for what he describes as "a very quick jolt -- and that's hard to do without a combination of things."
Do the corporate tax cuts help to bring in some GOP votes? Sure. But please explain why there is something wrong with that.
And, if Democrats aren't having enough fun, get ready for this fight in the near future -- over infrastructure. Team Obama swears it intends to fund projects that are "not constituency driven," as this source puts it, but in the federal interest. Translation: no pet pork.
So if you think Democrats are behaving badly now, just wait.
It won't be long, though, because Obama wants a package by mid-February. And sources tell me that his chief of staff, Rahm Emanuel, has made it very clear to his former colleagues that, while they're listening to all ideas, they're not in the mood to dawdle.
As Obama said Friday, he wants to try to "get past the habit" that ideas can be born out of one "ideological corner" or another. "If you show me something that is going to work, I will welcome it."

It may be hard for Democrats to move smoothly into a world in which they are in charge and responsible, but that's their new normal.
Opposition requires keeping score; leadership requires action. And Democrats need an attitude adjustment.
E-mail to a friend

All About Barack Obama • Democratic Party • Economic Policy