WASHINGTON (CNN) -- President-elect Barack Obama's point man on health care reform wasted no time in portraying a sense of urgency on the issue at his confirmation hearing Thursday.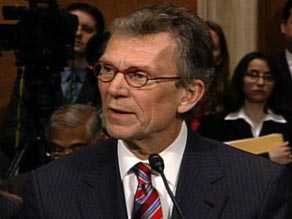 Health and Human Services Secretary-designate Tom Daschle testifies at his confirmation hearings.
"The flaws in our health system are pervasive and corrosive. They threaten our health and economic security," Tom Daschle, Obama's choice for secretary of health and human services, said in his opening statement.
The incoming Obama administration, Daschle said, "realizes that change cannot be dictated from the White House or from Washington out but must come from the grass roots of this country and involve as many Americans as possible in the process of reform."
Testifying before the Senate Health, Education, Labor and Pensions Committee, Daschle also promised an open, inclusive approach to what has traditionally been a particularly polarizing political issue.

Watch Daschle on the need to reform health care »
The committee is chaired by Sen. Edward Kennedy, D-Massachusetts, who has returned to the Senate after being diagnosed with brain cancer.
Daschle was warmly received by Kennedy and his other former Senate colleagues.
"Tom Daschle is a leader of ... strong dedication. He has served this nation with distinction," Kennedy said. He "understands the urgency and the challenge of health reform. He knows that Americans feel the heavy weight of rising costs."
In a bipartisan gesture, Daschle was formally introduced to the committee by another South Dakota Democrat, Sen. Tim Johnson, and former Republican Senate leader and 1996 presidential nominee Bob Dole.
Obama picked Daschle to be his chief on health care reform in December. In addition to being the secretary of heath and human services, Daschle would serve as the director of the White House office of health reform.
During Obama's White House bid, Daschle served as Obama's campaign co-chairman. He advised Obama on health care reform.
"[Daschle] will be responsible not just for implementing our health care plan. He will also be the lead architect of that plan," Obama said when announcing the appointment in December. At the time, the president-elect called Daschle "one of America's foremost health care experts."
Daschle, 61, is a former Democratic senator from South Dakota. He served as the Democratic leader in the Senate from 1995 until he was defeated for re-election in 2004.
He was first elected to Washington in 1978, serving in the House until he was elected to the Senate in 1986.
He recently wrote a book, "Critical: What We Can Do About the Health Care Crisis."
In the book, he pushed for universal health care coverage to reach 46 million uninsured Americans by expanding the federal employee health benefits program to include private employer plans together with Medicaid and Medicare.
Most Republicans oppose any such plan, saying it would give too much power to the government.
Republicans are likely to question Daschle's recent work for a Washington lobbying firm.

His wife, Linda Daschle, is a registered lobbyist for a firm that includes health care clients.
But a source close to Daschle told CNN that Linda Daschle would be leaving the firm at the end of the year to set up her own company focusing on transportation lobbying in order to clear any potential conflicts of interest.
E-mail to a friend

All About Thomas Daschle • Health Care Costs • Health Care Policy