Editor's note: Campbell Brown anchors CNN's "Campbell Brown: No Bias, No Bull" at 8 p.m. ET Mondays through Fridays. She delivered this commentary during the "Cutting through the Bull" segment of Thursday night's broadcast.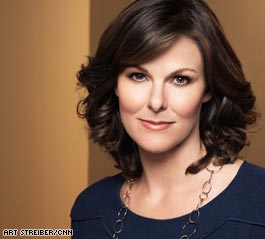 Campbell Brown says Barack Obama needs to paint a detailed picture of his expectations of Americans.
(CNN) -- In some ways, what we heard from President-elect Obama on Thursday was a call to action -- a call to action on the economy.
President-elect Obama: That's why I'm calling on all Americans, Democrats and Republicans and independents, to put good ideas ahead of the old ideological battles, a sense of common purpose above the same narrow partisanship, and insist that the first question each of us asks isn't "What's good for me?" but "What's good for the country my children will inherit?"
Obama's words today were obviously reminiscent of President John F. Kennedy's "ask not what your country can do for you, ask what you can do for your country."
Of course, what Kennedy was asking from Americans was service and sacrifice ... specifically, volunteerism and military service.
Kennedy went so far as to create the Peace Corps, a model of American service and charity, as one of his first actions in office.
'No Bias, No Bull'
Get the latest on the day's main events.
8 ET Monday through Friday

But what exactly does Obama want us to do? If his stimulus plan passes, many people will soon be getting a $500 dollar tax cut, $1,000 dollars for couples.
What do we do with it? Invest in American products? Save for the future? Buy bonds, as was the rallying cry during World War II? Volunteer? Enlist? And what about sacrifice?

Watch Campbell Brown's reaction to speech »
This is a massive spending plan, and no one wants to talk about what will ultimately get cut to pay for all of this. iReport.com: Can Obama fix the economy?

Let me be clear here: This is no slam on the president-elect ... just a call for a lot more specifics. It was a pretty dire picture painted today about the state of our economy.
With a promise of change and a sky-high approval rating, there is a lot you can do. Be honest with Americans and specific with us about the sacrifices we will have to make to truly get our country out of this mess.

The opinions expressed in this commentary are solely those of Campbell Brown.
E-mail to a friend

All About Barack Obama • U.S. National Economy