(CNN) -- Roland Burris on Thursday denied any quid pro quo with Illinois Gov. Rod Blagojevich for his appointment to the U.S. Senate during testimony before a panel weighing whether to impeach Blagojevich.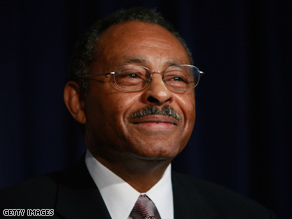 Roland Burris says his selection for the Senate had nothing to do with money or any pay-to-play scheme.
"I can, for this committee, state that there was no legal, personal or political exchange for my seat," Burris told the panel.
Burris also said he had no conversations with Blagojevich before the governor's arrest about his desire to take the seat vacated by President-elect Barack Obama.
The former state attorney general appeared before an impeachment committee of legislators in Springfield, Illinois, to explain his ties to the governor, who was arrested on December 9 after federal prosecutors alleged that Blagojevich had tried to sell the seat for money and influence.
Later Thursday, the panel unanimously recommended impeaching Blagojevich. The impeachment issue will be taken up by the full Illinois state House of Representatives.
Illinois Republicans had said they wanted to know whether Burris was "paying to play." GOP lawmakers pointed to state records showing that Burris, a Democrat whom Blagojevich appointed on December 30, and his lobbying firm contributed more than $20,000 to the governor's political campaigns.
The question reverberated back to Washington, where Democratic leaders have been blocking Burris from taking the Senate seat, saying the allegations against Blagojevich taint the appointment.
Don't Miss
Blagojevich has not been indicted. He and Burris say the appointment is legal.
In a written affidavit given to the impeachment panel, Burris said he had one limited conversation with the governor about the Senate seat before he was appointed. And that conversation, he said, was initiated by a Blagojevich attorney.
But records show that the two men have long ties, including lucrative state contracts, political contributions and even a job for the governor's wife. Those records are raising thorny questions from state officials, particularly Republicans.
On Wednesday, Burris said in Washington that his selection had nothing to do with money or any pay-to-play scheme.

Watch Burris comment on his visit to Washington »
"There is certainly no pay-to-play involved, because I don't have no money," Burris said before returning to Illinois.
Illinois state records show that Burris, who once ran against Blagojevich for the Democratic nomination for governor, and his lobbying firm have contributed more than $20,000 to the governor's political campaigns.
Two years ago, Burris hosted a $1,000-per-plate fundraiser for Blagojevich.
What's more, Burris' consulting firm, Burris & Lebed Consulting, has won nearly $300,000 in state contracts over the past four years.
Finally, the governor's wife, Patti, was hired in September to an $80,000-a-year job with the Chicago Christian Industrial League, where Burris' lobbying partner is a board member.
Although Democrats in the U.S. Senate initially strongly opposed seating Burris, the hard-line position appears to be eroding.
Sen. Dianne Feinstein, D-California, said she supports seating Burris. And on Wednesday, Senate Majority Leader Harry Reid, who initially led the move to block him, softened his position, saying an Illinois Supreme Court ruling in favor of Burris could settle the issue.

Watch senators discuss their meeting with Burris »
"Now that Mr. Burris has testified, we will review his testimony and discuss how to move forward," Reid spokesman Jim Manley said Thursday after the testimony.

Reid indicated Wednesday that Burris could help remove any taint or question by testifying before the special legislative committee investigating Blagojevich.
"They indicated they would like for me to make an appearance here before this committee and secondly we have to get the secretary of state's signature on the appointment," Burris told the impeachment committee Thursday. "We had a very pleasant and ... distinguished meeting."
E-mail to a friend

CNN's Drew Griffin and Scott Bronstein contributed to this report.

All About Rod Blagojevich • Roland Burris • Springfield (Illinois)