(CNN) -- President-elect Barack Obama on Thursday will call for "urgent action" on a plan to jumpstart the economy, his transition office said.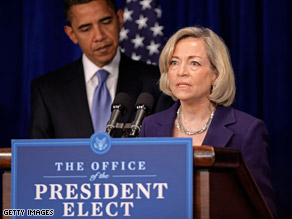 Barack Obama has selected Nancy Killefer to be his chief performance officer.
In what his team is calling a major speech, Obama will make the case for quick action on his "American Recovery and Reinvestment Plan."
Obama says the plan will save or create more than 3 million jobs and invest in health care, energy and education, among other priorities.
His team says the plan represents a "new approach" to the country's challenges and focuses on responsibility, accountability and transparency.
Obama's speech, to be given at George Mason University, will begin at 11 a.m. ET.
On Tuesday, Obama warned that members of Congress won't be allowed to slip earmarks into the economic recovery package, which Congress will soon take up.
"We are going to ban all earmarks, the process by which individual members insert pet projects without review," Obama told reporters after a meeting with his economic advisers.
Obama said that getting a handle on the country's skyrocketing budget deficit must begin with the economic stimulus plan, and that the plan must include changes in the way Congress does business.
As Obama spoke on his plans to stimulate the sagging U.S. economy, the Federal Reserve predicted that the economy's deterioration is likely to continue through this year, with unemployment rising into 2010. Get the details on Obama's proposed stimulus plan
Banning earmarks -- usually pet projects of Congress members, inserted into money bills unrelated to the projects -- is one of several steps the president-elect wants to take with the stimulus bill.
Obama also said he will set up an oversight board "to identify problems early and make sure we're doing all that we can to solve it." And, he said, Americans will be able to monitor online where the stimulus money is spent.
The president-elect said he would need to "invest an extraordinary amount of money" to get the economy back on track. He intends to push through the economic recovery plan -- expected to cost $800 billion -- as one of his first acts in office.
Obama has also promised that his administration will embrace budget reform. He vowed on Tuesday to "bring a long-overdue sense of responsibility and accountability to Washington."
The president-elect met with key Democratic and Republican congressional members Monday, and leaders from both sides of the aisle were optimistic after the meeting.
Republicans, however, cautioned that they are interested in seeing significant tax cuts in the plan and expect to provide significant input into the process as well.
"This potentially $1 trillion bill would be one of the largest spending bills in U.S. history. It would increase the deficit by half a trillion dollars overnight and deepen an already enormous national debt," Senate Minority Leader Mitch McConnell, R-Kentucky, said. "Before we all agree to it, the American people need to see the details.
Meanwhile, on Wednesday, Obama said the economic crisis "requires immediate and decisive action." He pledged to cut unnecessary spending and bring "a new sense of responsibility to Washington," as he announced Nancy Killefer as his pick to be chief performance officer.
"Change and reform can't just be election-year slogans. They must become fundamental principles of government," Obama said at a news conference.
The CPO is a new position that Obama called "one of the most important" appointments he will make. Killefer will be charged with restoring fiscal order and reforming government.
She also will help lead the effort to go through the budget line by line, eliminate what's not needed, and improve the things that work, Obama said.
Killefer is a senior director for McKinsey & Company, a management consulting firm. She was an assistant secretary of the treasury in the Clinton administration.
Killefer on Wednesday pledged to do her best to "create a government that works better for its citizens."
"Most of the operational issues that the government faces today have developed over decades and will take time to address, but there is an urgency to begin now," she said.
Sources inside Obama's transition team and at CNN, meanwhile, said Tuesday that the transition team has approached Dr. Sanjay Gupta, CNN's chief medical correspondent, about becoming U.S. surgeon general. iReport.com: What do you think about Obama's cabinet picks?
Gupta is a member of the staff and faculty of the Department of Neurosurgery at Emory University School of Medicine in Atlanta, Georgia. He regularly performs surgery at Emory University Hospital and at Grady Memorial Hospital, where he serves as associate chief of neurosurgery.
Gupta was in Chicago, Illinois, in November to meet with Obama on the matter, sources said.
Gupta has declined comment.
Two Democratic sources also have told CNN that Obama will nominate longtime Washington power broker Leon Panetta to lead the Central Intelligence Agency.

This pick has provoked strong emotions in political and intelligence circles because Panetta has little hands-on experience in intelligence. But Panetta supporters describe him as a consummate manager and bipartisan Capitol Hill insider who gets things done without alienating people.
Panetta, 70, has had a long political career, beginning in 1966 when he served as a legislative assistant to U.S. Sen. Thomas H. Kuchel, R-California. He also was the chief of staff in the Clinton White House.
E-mail to a friend

CNN's Ed Henry and CNNMoney's Jeanne Sahadi contributed to this report.
All About Barack Obama • George W. Bush