WASHINGTON (CNN) -- Senate Democrats have no choice but to change their tone about Roland Burris becoming a U.S. senator because Illinois Gov. Rod Blagojevich "called our bluff" in appointing someone over their objections, a senior Democratic congressional source conceded Wednesday.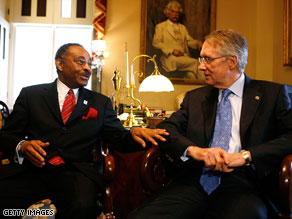 Roland Burris, left, meets with Senate Majority Leader Harry Reid in the Capitol on Wednesday.
"We tried to send a political signal to Blagojevich that we would not seat someone he appointed. He called our bluff, in a reckless way," the Democratic source said.
A second senior Democratic source said that the issue had clearly become a "heightened situation" that needed to be dealt with and that Burris' face-to-face meeting with Senate Majority Leader Harry Reid and Majority Whip Dick Durbin on Wednesday helped to establish a "person-to-person dialogue."
Burris described his meeting with Senate leadership as warm and called Reid a "very warm and charming gentleman."
Burris also said former President Jimmy Carter called him before the meeting and told him, "Roland, you will make a great senator."
"I'm very pleased this afternoon. I'm happy. ... Very shortly, I will have the opportunity to do that as a junior senator from the fifth-largest state in this great country of ours. Isn't it great?" Burris told reporters.
After his meeting with Burris, Reid said that the Illinois Supreme Court may be able to help clear the way for Burris, a former state attorney general, to fill the Illinois Senate seat vacated by President-elect Barack Obama.
Don't Miss
Reid said that he is waiting for a ruling from the Illinois high court on whether Illinois Secretary of State Jesse White needs to sign the certificate of appointment for Burris.

Read Burris' certificate »
White had refused to sign the certificate because Blagojevich is under investigation by federal prosecutors and may face corruption charges after allegedly engaging in "pay to play" politics.
Durbin said the court could rule as early as Wednesday.
Reid and Durbin said Burris' certificate, since it lacks White's signature, violates a Senate rule that has been in place since the 19th century.
"This has been a rule in the United States Senate since 1884," Durbin said. "We have never, ever waived this rule for any election or appointment.

Watch Reid and Durbin discuss their meeting with Burris »
"Everyone has to present a certificate, signed by the governor, cosigned by the secretary of state. ... So it's an important rule and one not easily challenged or changed," said Durbin, who noted that he has known Burris for decades.
White, however, disputed the claim that his signature was needed on Burris' certificate, saying Wednesday that he was the "fall guy" for politicians who oppose Burris.

Listen to White say his signature is unnecessary »
"They could have seated him without my signature," White told WGN Radio. "It carries a lot of weight, but my signature is mostly ceremonial rather than being a point of law."
"They played a little bit of a game with [Burris] yesterday. They have the authority to put the gentleman in place."
Reid said that while the Senate Rules Committee might take up the matter soon, the Senate as a whole would ultimately have to vote on whether to seat Burris.
"There's going to come a time when the entire Senate is going to have to act on this," Reid said. "And that day, I hope, would come sooner rather than later."
A Democratic source, however, said the process could take a month.
When Blagojevich first named Burris, Obama supported Democrats' efforts to block his appointment, but on Wednesday Obama, like his former Senate colleagues, appeared to soften his tone, calling Burris "a fine public servant."
"If he gets seated, then I'm going to work with Roland Burris, just like I worked with all the other senators, to make sure that the people of Illinois and the people of the country are served," Obama said.
Obama and Reid talked on Monday about Burris, a source familiar with the discussion told CNN. The source did not want to be named because the discussion was private.
"They agreed on the need for an amicable resolution to this situation, in order to give the people of Illinois full representation," the aide said.
Burris was appointed by Blagojevich last week to fill Obama's seat. At the time, Senate Democrats said they would not accept anyone appointed by Blagojevich, who was arrested by federal agents last month after prosecutors accused the Democratic governor of conspiring to "sell" Obama's Senate seat.
Reid said he had no personal objections to Burris.
"Roland Burris, to me, appears to be candid and forthright. Without any hesitation, he prepared an affidavit that the impeachment committee for the Illinois state assembly already has, and he's going to go answer any other questions they might have."
"He's not trying to avoid any responsibility and trying to hide anything," Reid added.
Reid also said Burris, who is African-American, acknowledged that the Senate leadership's opposition to his appointment was not racial in nature. If seated, Burris would be the only African-American in the Senate.
"Roland Burris, one of the first things he said to us, 'hey, this is nothing that's racial, I understand that.' So, a lot of people tried to make this a racial issue, but Roland Burris has not and will not," Reid said.
Racial concerns have surrounded Burris' appointment, however. On Wednesday, the Congressional Black Caucus voted unanimously to support Burris.
Burris' efforts were helped Tuesday when Sen. Dianne Feinstein, D-California, the outgoing chairman of the Senate Rules Committee, said Tuesday she disagrees with her Democratic leadership's move to block Burris.
"The question is really one, in my view, of law," Feinstein told reporters in a Capitol hallway. "Does the governor have the power, under law, to make the appointment? And the answer is yes. Is the governor discredited? The answer is yes. Does that affect his appointment power? The answer is no, until certain things happen," she said.
On Tuesday, Burris traveled to the Capitol in Washington, seeking to be seated as the junior senator from Illinois. He was not allowed on the Senate floor, however, after Secretary of the Senate Nancy Erickson had told him his credentials were "not in order."

Watch Reid talk about Burris on the Senate floor »

In a criminal complaint last month, federal prosecutors accused Blagojevich of soliciting campaign donations and other favors from potential Senate appointees.
Burris has not been named in the investigation, and no one has accused him of engaging in "pay to play" politics with Blagojevich. Democrats, however, said anyone Blagojevich appointed to the Senate would be "tainted."
E-mail to a friend

CNN's Dana Bash and Scott J. Anderson contributed to this report
All About Roland Burris • Rod Blagojevich • U.S. Senate