By Jim Spellman
CNN All-Platform Journalist






DENVER, Colorado (CNN) -- In Washington, all eyes are on President-elect Barack Obama, but 1,700 miles away, in Colorado, another historic swearing-in has taken place.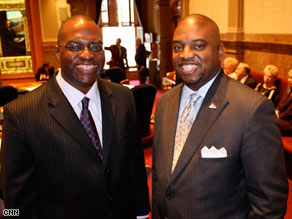 Peter Groff, left, and Terrance Carroll are the new leaders of Colorado's legislature.
For the first time in American history, African-Americans lead both chambers of a state legislature.
"I'm honored and humbled that my colleagues chose us to lead the Senate and the House. And it's more humbling when you look and this is a state with 4 percent African-American population," said new Speaker of the House Terrance Carroll, who joins Senate President Peter Groff in the state Capitol.
"And it leads you to believe and impresses upon you that they were more concerned with our character and our ability to lead as opposed to the color of our skin," he added.

Watch Colorado's legislative leaders reflect on their roles »
Carroll said he's mindful of history.
"And where we come from and whose shoulders we stand on. Although we live in an environment where you can have a Senate President Groff or a Speaker Carroll, we know there's still a lot of work to be done in this country in terms race relations, but I think we've made some huge steps forward in recent times," he said.
"The wonderful thing about today is this won't have to happen again, at least in Colorado. So, those generations that come behind us won't have to shatter that glass ceiling. We've already done that."
Carroll, 39 ,was elected to the state House in 2003 representing northeast Denver. Born in Washington, D.C., to a single mother, he is an ordained minister and practicing lawyer. He was sworn in as speaker of the House on Wednesday.
Groff, 45, also represents Denver. He is a college lecturer and host of a radio talk show on the XM Satellite Network. A Chicago native, he has been a state senator since 2003 and was elected president of the state Senate in 2005.
Both men are Democrats who supported then-candidate Barack Obama, and they consider themselves part of a new generation of black leaders who have been called "post-racial."
"We come from a generation where we're more concerned about policy first rather than trying to prove something to past generations," Groff said. "Colorado has a rich history of kind of stepping out on faith and stepping out on independence and saying were going to elect or put into position the best person to do the job."
Maybe so, but it wasn't always that way. In the 1920s, the Ku Klux Klan had tremendous influence in the state, according to Robert Alan Goldberg, a history professor at the University of Utah and author of "Hooded Empire: The Ku Klux Klan in Colorado."
"Politicians were summoned to Klan meetings where they pledged loyalty to the Invisible Empire," Goldberg said "On Election Day, Klansmen and women put 'pink sheets' under voters' doors. The sheet designated who the Klan supported."

Goldberg says that in the 1920s, about 35,000 Coloradoans joined the Klan. He finds the election of Groff and Carroll very encouraging.
"What a pleasant surprise," he said. "Perhaps we can overcome the difficult history of bigotry that scars this nation."
E-mail to a friend

All About Colorado • Racial Issues