By Drew Griffin and Scott Bronstein
CNN Special Investigations Unit





SPRINGFIELD, Illinois (CNN) -- Did Roland Burris secure his appointment to Barack Obama's vacant Senate seat through some kind of pay-to-play politics of the very sort that have tainted the man who appointed him, Illinois Gov. Rod Blagojevich?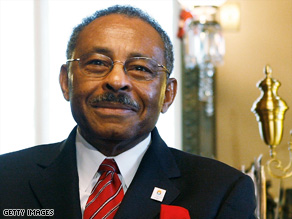 Roland Burris told reporters in Washington on Wednesday his appointment has nothing to do with money.
Republicans in the Illinois state legislature are asking that question, and they want Burris, the former Illinois attorney general, to answer in person at a hearing scheduled for Thursday on Blagojevich's impeachment.
And the question is reverberating back to Washington, where Democratic leaders have been blocking Burris from taking the Senate seat, saying the appointment is tainted by Blagojevich, who was arrested last month and accused of trying to sell the seat for money and influence.
Blagojevich, however, has not been indicted and remains governor. He and Burris say the appointment is legal.
In a written affidavit given to the impeachment panel, Burris said he had one limited conversation with the governor about the Senate seat before he was appointed. And that conversation, he said, was initiated by a Blagojevich attorney.
But records show the two men have long ties to each other -- including lucrative state contracts, political contributions and even a job for the governor's wife. Those records are raising thorny questions from state officials, particularly Republicans.
"I want Mr. Burris to, under oath, talk about that, about exactly when his interest in his seat, when he became interested in the seat," said Republican State Rep. Jim Durkin, "how far back it went, who did he talk to, and exactly the communication that went back and forth between him and the governor and any type of documentation which he may have given to the governor."
On Wednesday, Burris told reporters in Washington that his selection had nothing to do with money or any pay-to-play scheme.

Watch Burris comment on his visit to Washington »
"There is certainly no pay-to-play involved, because I don't have no money," said Burris, who returned later in the day to Illinois, where he planned to appear Thursday before the impeachment panel.
"I'm going to tell them exactly what transpired between the governor and I," he told reporters when he arrived in Chicago.
Illinois state records show Burris, who once ran against Blagojevich for the Democratic nomination for governor, and his lobbying firm have contributed more than $20,000 to the governor's political campaigns.
Two years ago, Burris hosted a $1,000-per-plate fund-raiser for Blagojevich.
What's more, Burris's consulting firm -- Burris & Lebed Consulting -- has won nearly $300,000 in state contracts over the past four years.
Finally, the governor's wife, Patti, was hired in September to an $80,000-a-year job with the Chicago Christian Industrial League, where Burris' lobbying partner is a board member.
Although Democrats in the U.S. Senate initially strongly opposed seating Burris, the hard-line position appears to be eroding.

Watch comments from Illinois Secretary of State Jesse White »

Sen. Dianne Feinstein, D-California, said she supports seating Burris. And Senate Majority Leader Harry Reid, who initially led the move to block him, then softened his position, saying that an Illinois Supreme Court ruling in favor of Burris could settle the issue.

Watch senators discuss their meeting with Burris »
Democrats in the Illinois legislature have been largely supportive of Burris, the first African-American elected to state office in Illinois. But they and their Washington counterparts will be watching Thursday's hearing closely.
E-mail to a friend

All About Rod Blagojevich • Roland Burris • Springfield (Illinois)