WASHINGTON (CNN) -- The first session of the 111th Congress officially convened at noon Tuesday, with the troubled economy at the top of its agenda.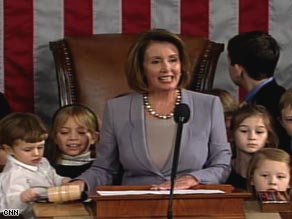 Speaker Nancy Pelosi, surrounded by her grandchildren, swears in the members of the House.
In the Senate, Vice President Dick Cheney swore in 34 senators.
Shortly after the senators were sworn in, Senate Majority Leader Harry Reid, D-Nevada, said the Democratic majority was ready to work with Republicans to help the nation's faltering economy.
"With the American people suffering a staggering economic crisis here at home, we are in this together. With the middle class struggling to make one paycheck last until the next one comes, we are in this together," he said.
Senate Minority Leader Mitch McConnell, R-Kentucky, said Republicans were ready to work with the new administration to pass a stimulus package, but warned against wasting the taxpayers' money.

Watch the 111th congress get sworn in »
"This potentially $1 trillion bill would be one of the largest spending bills in U.S. history. It would increase the deficit by half a trillion dollars overnight and deepen an already enormous national debt," McConnell said. "Before we all agree to it, the American people need to see the details. They need to be able to see for themselves whether this is money well spent. If lawmakers think that it is, then they need to make a convincing case to the people who are paying for it."
Two potential senators, Roland Burris of Illinois and Al Franken of Minnesota, were not sworn in.
Burris, who was appointed by embattled Illinois Gov. Rod Blagojevich to fill the seat left by President-elect Barack Obama, was turned away by the secretary of the Senate because his certificate lacked the signature of Illinois Secretary of State Jesse White. White refused to sign Burris' certificate because Blagojevich, who is accused of trying to sell the vacant Senate seat, could potentially face federal corruption charges.

Watch Reid call Burris 'not credentialed' »
Don't Miss
Minnesota's canvassing board declared Franken, a Democrat, the winner of its Senate race Monday over Norm Coleman, but Republicans said they plan to contest the election in court and will block Democrats from seating Franken until Minnesota Gov. Tim Pawlenty certifies the results.

Watch Coleman say he will contest the election »
Senate Democrats begin the session controlling 55 seats, five more than they held in the last Congress. Democrats can also count on the votes of two independents -- Sen. Joe Lieberman of Connecticut, who usually caucuses with the party, and Sen. Bernie Sanders from Vermont. Republicans control 41 Senate seats.
Reid said senators were awaiting the outcome of a court decision that could force White to sign Burris' certificate before deciding how to handle his claim to Illinois' Senate seat.
"The Senate will proceed in a manner that is respectful of Mr. Burris while ensuring that there's no cloud of doubt over the appointment to fill this seat," Reid said.
Vice President-elect Joe Biden was among the 34 senators sworn in Tuesday. He is expected to resign his seat before taking office as vice president on January 20. Delaware Gov. Ruth Ann Minner appointed Ted Kaufman, a top aide to Biden, to replace him.
In the House, 434 representatives were sworn in, and Rep. Nancy Pelosi, a California Democrat, was elected to her second term as speaker over the Republican leader John Boehner of Ohio. Pelosi was unanimously supported by her Democratic House colleagues.

Watch Pelosi take the oath after being re-elected »
House Democrats also picked up seats this election. Democrats begin the Congress with 256 of the 435 House seats; Republicans hold 178 seats.
One seat was left vacant after Rahm Emanuel, an Illinois Democrat, resigned after he was tapped to be Obama's White House chief of staff.
The top order of business for the new Congress will be an economic stimulus package. Obama told a bipartisan group of congressional leaders on Monday that he would like a package of tax cuts and spending proposals on his desk by the end of January.
The president-elect will propose roughly $300 billion in tax cuts for individuals and businesses. He has not publicly put a price tag on his overall stimulus plan, though his advisers have said they expect it to fall between $675 billion and $775 billion, 40 percent of which would be in tax cuts.

According to an Obama spokesman, several tax breaks are under serious consideration, including a middle-class tax cut of $500 a year for individuals and $1,000 for couples. The credit would work essentially as a payroll tax credit, meaning the money could be delivered fairly quickly.
Obama also is considering a tax break for businesses that book losses in 2008 and 2009.
E-mail to a friend

CNNMoney's Jeanne Sahadi contributed to this report.
All About U.S. Senate • U.S. House of Representatives