By Gloria Borger
CNN Senior Political Analyst






WASHINGTON (CNN) -- It had to happen, and it did.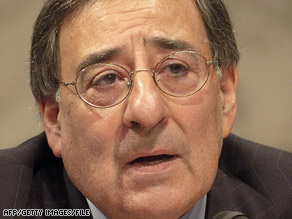 Leon Panetta, who has a strong background in economics, was chief of staff for President Bill Clinton.
President-elect Barack Obama's transition team -- overhyped as overachieving, probably to its own detriment -- has made some mistakes.
First, by underestimating the potential problems for New Mexico Gov. Bill Richardson's confirmation, given a grand jury investigation into his gubernatorial office.
Next, by failing to consult -- or even alert -- incoming Senate Intelligence Committee Chairman Sen. Dianne Feinstein about the notion of appointing former Clinton White House chief of staff Leon Panetta as CIA director.
Oops.

Watch as Panetta speaks out »
One source close to the transition admits it was just a blunder. The folks who did the picking somehow did not manage to inform the folks who would have done the due diligence on Capitol Hill. It's a mistake, for which they have apologized. And it's one for which they will no doubt continue to pay.
Don't Miss
Secrets are great at the CIA; not so great when it comes to keeping your congressional allies informed.
Feinstein (as well as outgoing Intelligence Chairman Sen. Jay Rockefeller) are understandably miffed about the lack of consultation. Even Vice President-elect Joe Biden wasn't happy about it, telling CNN producer Ted Barrett it was "a mistake," while defending the choice of Panetta for the job.
"He's been a consumer of intelligence for a long time. He was chief of staff. He understands the agency well."
But Feinstein is a grownup who is not just sulking about congressional prerogatives -- she truly believes that an intelligence professional is what is required for the job.
Herein lies a true substantive difference: While all Democrats agree the agency needs to be reformed, they differ on how best to do it. Is an intelligence professional the best way to go -- someone who understands the inexact science of the collection of intelligence?
Or, in order to achieve reform, is it best to bring in an independent figure -- known as a good manager and decision-maker -- to change what has become an often intractable and inflexible bureaucracy?
In true Obama fashion, it sure seems like he can see it both ways. His first choice for the CIA job was John Brennan, a 25-year CIA veteran, who withdrew his name after the left complained about what they considered to be his ambiguous stance on torture.
Without Brennan, the transition landed upon the unlikely choice of Panetta -- whom some had mentioned as a possible Commerce secretary -- citing his management skills.
There's one more important qualification they don't openly cite: Panetta's clear criticism of torture "under any circumstances." That will make Obama's left flank very happy.

All of which does not take care of Feinstein. On Tuesday, she said she has heard from both Obama and Biden (I bet she has) and she "looks forward" to speaking with Panetta (I bet she does) about the "critical issues" facing the intelligence community.
Better late than never.
E-mail to a friend

All About Leon Panetta • Central Intelligence Agency • Barack Obama