By Campbell Brown
CNN





Editor's note: Campbell Brown anchors CNN's "Campbell Brown: No Bias, No Bull" at 8 p.m. ET Mondays through Fridays. She delivered this commentary during the "Cutting through the Bull" segment of Monday night's broadcast.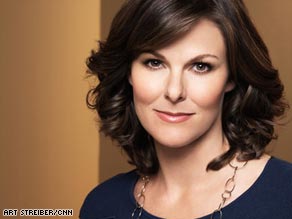 CNN's Campbell Brown says Interior Secretary Dirk Kempthorne should explain a $235,000 office renovation.
(CNN) -- A great example of your tax dollars at work -- because we all want our Secretary of the Interior to have monogrammed towels in his office bathroom, don't we?
That's right -- this little gem comes from today's Washington Post:
'No bias, no bull'
Get the latest on the day's main events on "Campbell Brown: No Bias, No Bull"
8 ET Monday through Friday on CNN

The paper reports outgoing Interior Secretary Dirk Kempthorne spent about $235,000 of your money to renovate his office bathroom at the Department of Interior. He installed a new shower, a refrigerator and a freezer hidden behind what the paper describes as lavish wood paneling -- and apparently got monogrammed towels.
Sadly, it also appears this wasn't just one person's bad judgment.

Watch Campbell Brown's commentary »
The General Services Administration -- which in theory is supposed to oversee and keep track of how your tax dollars are spent by these agencies -- well, the GSA signed off on this renovation. We reached out to folks there to find out why. They told us the reason they had to spend so much is that these were "historic renovations" to the Department of Interior building that involved some major reconstruction to ensure safety and historical accuracy.

OK, but that doesn't explain that new shower, the refrigerator, the freezer and certainly not those monogrammed towels.
The opinions expressed in this commentary are solely those of Campbell Brown.
E-mail to a friend

All About U.S. Department of the Interior