From Brianna Keilar
CNN Congressional Correspondent
WASHINGTON (CNN) -- President-elect Barack Obama is expected to meet with congressional leaders Monday to discuss his proposal for the new economic stimulus plan, which leaders are now referring to as an "economy recovery plan," a Senate Democratic leadership aide said Friday.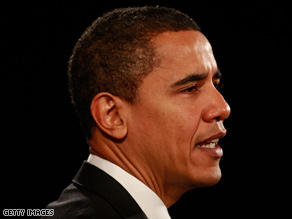 President-elect Barack Obama is expected to meet with congressional leaders on Monday.
Obama planned to meet with House Speaker Nancy Pelosi, D-California, and Senate Majority Leader Harry Reid, D-Nevada.
The three then hoped to meet with Senate Minority Leader Mitch McConnell, R-Kentucky, and House Minority Leader John Boehner, R-Ohio, the aide told CNN.
Congressional Democrats are planning to vote on the "economic recovery plan" in the House next week and hope to have the bill ready for Obama to sign shortly after he takes office January 20.
A House Democratic aide said the bill would include "aid to the states, infrastructure spending, emergency food assistance" and other provisions that were similar to those in a stimulus bill based in the House in the fall. But the overall size of the bill will be larger than the bill that passed the House.

Watch why the economy is Obama's top agenda item »
The president-elect's staff contacted McConnell's office about meeting Monday, but the time and location have not been pinned down, said a Senate Republican leadership aide.
"It's likely to happen, but the details still need to be worked out," said the aide.
The aides declined to be named because the meetings had not been publicly announced.
Obama aides would not confirm any Monday meetings.
McConnell released a statement Friday saying Senate Republicans "agree with President-elect Obama that taking action to turn the economy around is job one. We also agree, though, that every dollar needs to be spent wisely and not wasted in the rush to get it spent."
"And we believe that his admonition to 'go through the federal budget -- page by page, line by line -- eliminating those programs we don't need, and insisting that those we do operate in a sensible, cost-effective way' should apply to this, potentially the largest spending bill ever considered by the Congress," McConnell added.
In a statement, Boehner also said he welcomed the meeting with Obama and said, "Republicans want to work together with our colleagues across the aisle to get our economy moving again on behalf of American families, small businesses and seniors.
"However, I am concerned by media reports that suggest the Democrats' emerging proposal may cost taxpayers up to $1 trillion in new government spending, with little debate or public scrutiny of the still-unseen legislation."
The stimulus package the Democrats are considering may be smaller than the $1 trillion figure, however.
A Democratic aide said Tuesday that House Democrats were still discussing a stimulus package of $500 billion to $600 billion but said, "You don't build a package from the top down. You see what is needed and then decide on the appropriate number."
Asked whether Republicans are satisfied with what appears to be an effort by Obama to include them in discussions about the new economic stimulus package, the GOP aide said, "It depends on what the meeting is: if it's just a photo op or if they're really reaching out."
Congressional Republicans warned Democrats this week against moving the stimulus package through Congress too quickly. They demanded hearings on the stimulus package and that the text of the bill be posted online.
Republicans also demanded that any stimulus bill be free of earmark provisions that would benefit special interests.
The House aide, however, said that it may be difficult for lawmakers to hold hearings on the stimulus package because Congress will still be in the process of organizing its committees.
E-mail to a friend

CNN's Deirdre Walsh and Scott J. Anderson contributed to this report.
All About Barack Obama • U.S. Senate • U.S. House of Representatives