By Ruben Navarrette Jr.
Special to CNN

Editor's Note: Ruben Navarrette is a member of the editorial board of the San Diego Union-Tribune and a nationally syndicated columnist. Read his column here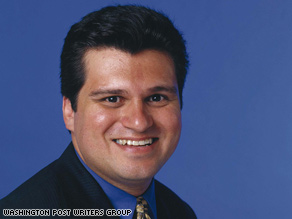 Ruben Navarrette says Democrats don't have the right to stop Roland Burris from occupying Senate seat.
SAN DIEGO, California (CNN) -- Illinois Gov. Rod Blagojevich is growing on me. You see, I like chutzpah and I don't mind chaos.
Blagojevich has an abundance of the former, and a knack for producing more than his share of the latter.
It was with remarkable chutzpah that the man soon to be referred to as "the defendant in the above-named action" threw the world of politics into chaos this week by asserting a couple of principles that his critics find terribly inconvenient.
First, that under the 17th Amendment, governors alone have the power to appoint a replacement to complete the term of senators who are expelled, resign or die.
And second, that under our system, the accused are presumed innocent until proven guilty -- and that means being allowed to return to work and fulfill one's responsibilities.
Pundits are painting Blagojevich as a rogue politician who -- having already been accused of trying to sell the Senate seat vacated by President-elect Barack Obama -- wreaked even more havoc this week by abruptly tapping former Illinois Attorney General Roland Burris to fill the seat.
You have to admire someone so committed to his job that he won't let a little thing like a federal prosecution interfere with doing it. Nor did Blagojevich seem concerned that Senate Democrats had threatened not to seat anyone he appointed because of the cloud overhead.
Don't Miss
My associates in the chattering class are missing the big picture. Blagojevich has done us all a favor with his mischievously brilliant and cynical maneuver.
By choosing Burris -- the first African-American to be elected statewide in Illinois -- and forcing a confrontation with Senate Majority Leader Harry Reid, Assistant Majority Leader Dick Durbin and the other white males in the Senate Democratic leadership, Blagojevich has set up another teachable moment in race relations and the often one-sided dynamic between African-Americans and the Democratic Party.
The first lesson came during the Democratic primaries when supporters of Hillary Clinton made a series of racially insensitive remarks. That was curious given that these are the sort of folks who like to think of themselves as "progressive" because, for instance, they would never send out, as a Christmas gift, a CD that included a parody called "Barack The Magic Negro," as did one boneheaded Republican official.
But look at what liberals will do. Remember when Billy Shaheen, co-chairman of Hillary Clinton's New Hampshire campaign, suggested that Obama would founder as the nominee because Republicans would claim that he sold drugs? Or when Bill Clinton condescendingly likened Obama to Jesse Jackson and then described the pushback as a "mugging?"
Or when former Democratic vice presidential candidate Geraldine Ferraro insisted that if Obama were "a white man, he would not be in this position," and then reacted to the fallout by saying that her critics were "attacking me because I'm white"?
The takeaway from all these comments was that, after nearly 50 years of dutifully supporting white Democrats, African-Americans are still relegated to the role of supporting actors. And when an African-American dares to vie for center-stage, white Democrats who don't want to cede power will try to tackle him to the ground.
They failed. And now Barack Obama is president-elect and the new leader of the Democratic Party. It doesn't get any more center-stage than that.
But Obama doesn't rule the Senate. That fiefdom is under the control of Harry Reid and the rest of the Senate hierarchy, and they want nothing to do with Burris.
They think that he'd be tainted because he was appointed by Blagojevich and then easily defeated by a Republican when he has to face an election. Then they'd lose the seat. They even have the support of Obama, who is standing with Senate Democrats in opposing Burris.
Senate Democrats probably don't have a leg to stand on. They don't have the legal authority to bar Roland Burris. And as a bunch of white men presiding over a body that -- as Rep. Bobby Rush, D-Illinois, bluntly pointed out this week in defense of Burris -- doesn't have a single African-American member, nor do they have the moral authority to do so.
The powers-that-be in the Democratic Party are trapped by their own hollow rhetoric about inclusion and opportunity. And it's great fun to watch.
We're going to learn a lot from all this -- about power and loyalty and who needs whom and who owes what. And for that, we should thank Gov. Rod Blagojevich.
The opinions expressed in this commentary are solely those of Ruben Navarrette Jr.
E-mail to a friend

All About Roland Burris • Harry Reid • Rod Blagojevich