From Brianna Keilar
CNN Congressional Correspondent
(CNN) -- The man tapped by Illinois' embattled governor to fill an open U.S. Senate seat will be turned away if he arrives for Tuesday's inauguration of new members, according to two Democratic aides.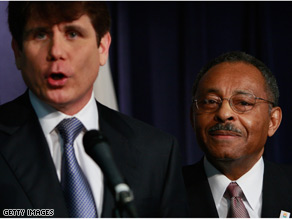 Illinois Gov. Rod Blagojevich, left, named Roland Burris to fill President-elect Barack Obama's Senate seat.
Roland Burris, Illinois Gov. Rod Blagojevich's pick to fill President-elect Barack Obama's vacant Senate seat, will not be allowed on the Senate floor, according to the aides -- one who is familiar with Senate Democratic leaders' plans, and the other an aide to the Senate Democratic leadership.
Democrats in the Senate have twice this week said they have the authority to refuse to accept anyone appointed by Blagojevich, who was arrested December 9, accused by federal authorities of corruption, including allegedly trying to sell Obama's seat for personal gain.
Blagojevich, who denies wrongdoing and has ignored calls to resign, named Burris -- a Democrat and a former Illinois state comptroller and attorney general -- to serve the last two years of Obama's Senate term.
The first Democratic aide said if Burris tries to enter the Senate chamber on Tuesday, the Senate doorkeeper will stop him. If Burris were to persist, either trying to force his way onto the Senate floor or refusing to leave and causing a scene, U.S. Capitol police would stop him, the aide said. Watch efforts to keep Burris from the Senate

"They [police] probably won't arrest him," but they would call the Senate's sergeant-at-arms, the aide said.
Burris has indicated he intends to be at the Senate on Tuesday. When asked about what would happen if he shows up, Burris told the Chicago Tribune that he is "not going to create a scene in Washington."
"We hope it's negotiated out prior to my going to Washington," he added, according to the Tribune.
Burris told CNN that he was "certainly going to make contacts with the leadership to let them know that the governor of Illinois has made a legal appointment, and that I am currently the junior senator for the state of Illinois."
"And we're hoping and praying that they will see the reason in appointing me as a very qualified, capable, able and ready-to-serve individual," Burris said.
The Senate sergeant-at-arms, Terrance Gainer, served in the Illinois government at the same time as Burris. Gainer was the director of the Illinois State Police from 1991 to 1995 -- the same years Burris was the Illinois attorney general.
Senate Democratic leaders also have discussed what might happen if Blagojevich shows up on Capitol Hill on Tuesday, the first aide said. This would be a "radioactive" situation, according to the aide, because Senate Democratic leaders could not deny Blagojevich entry, as sitting governors have floor privileges in the Senate.
Governors are allowed to walk around the Senate chamber or talk with senators while on the floor, though they cannot vote or formally address the Senate.
Blagojevich's spokesman, Lucio Guerrero, said the governor is aware he is allowed access to the Senate floor, but "the idea of going on Tuesday was first raised by a reporter," not Blagojevich.
The governor is not planning on going to Capitol Hill, Guerrero said.
E-mail to a friend

CNN's Bill Mears contributed to this report.
All About Rod Blagojevich • Illinois • Roland Burris • U.S. Senate