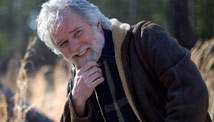 STORY HIGHLIGHTS
Chuck Leavell says plan for preserving forests was bright spot at climate summit
He says a third of U.S. forests are family-owned, can play big role in carbon reduction
Laws must incentivize carbon-cutting forest management practices, he says
Leavell: In slow timber market, nudge forest owners toward climate-friendly steps
Editor's note: Chuck Leavell is a pianist who has spent 27 years playing keyboards for the Rolling Stones. He is a board member of the American Forest Foundation and recently founded Mother Nature Network, MNN (www.mnn.com), an environmental news and information site. He owns and operates the 2,500-acre Charlane Plantation in Dry Branch, Georgia.
Atlanta, Georgia (CNN) -- Even if world leaders haven't finished the job with the global accord produced at the Copenhagen climate talks, the summit was not a total bust. That's because negotiators there outlined a landmark deal aimed at making money grow on trees.
The tentative outline would allow countries -- especially developing countries -- to profit from preserving forests, and possibly even peat swamps, grasslands and other ecosystems that help soak up carbon dioxide and soften the blow of climate change.
But it's forests that are the main target, due to their knack for absorbing prodigious amounts of CO2 from the atmosphere, thereby preventing it from trapping the extra solar heat that causes global warming.
Unfortunately, the summit's forest initiatives provided little help to the more than 10 million people like me who manage family-owned forest land in the United States. Since such forests make up more than a third of all forests in the nation, they have the potential to play a huge -- and growing -- role in reducing carbon emissions. Any government action on climate change in this country needs to pay attention to them.
It may seem odd for a rock 'n roll piano player to be picking up this cause. Let me explain: Back in the mid 80's when I was in-between Rolling Stone tours, I found myself studying practical forestry. My wife, Rose Lane, and I had inherited land from her grandparents and we were beginning to actively manage our family forest, Charlane Plantation, carrying on the tradition of good stewardship that her family started many generations ago.
In 1999, Rosie and I were rewarded for our efforts by being named by the American Tree Farm System, a program of the non-profit conservation group, the American Forest Foundation, as National Outstanding Tree Farmers. We were selected out of some 65,000 other family forest owners, which was a great honor for us.
Through the years I have become fascinated and passionate about trees and forests. But I never dreamed that some 25 years later I would be talking about carbon credits, cap and trade, and bio-mass for energy usage. However, these were some of the hot topics being discussed at the recent Copenhagen climate talks, which I followed with great interest.
A full 10 percent of carbon emissions in the United States every year are absorbed by forests and forest products, according to the U.S. Environmental Protection Agency, but that number could increase if the right economic incentives were put in place.
Forests can supply us with clean, renewable energy, such as biofuels, that, if used to replace fossil fuels, also reduce carbon emissions.
They can serve as a "carbon offset" under a cap-and-trade system that allows forest owners to sell their enhanced carbon storage to an emitter when that emitter is unable to meet its limits on greenhouse gas pollution.
President Obama and the Senate will soon turn their attention again to proposed climate change legislation, which will no doubt continue to be controversial because of its complexity and broad impact on the environment and the economy. Carbon trading is an important part of any approach, but more is needed to make environmentally-friendly steps worthwhile for private forest landowners.
Many smaller forest landowners in the United States may not be able to participate in a cap and trade program because the set-up costs for trading carbon -- such as verification of storage and monitoring costs -- are just too expensive for owners with lot sizes less than 100 acres. Yet together these smaller family-owned U.S. forests make up a significant "carbon sink" of 119 million acres.
The nation could immediately put this land to work in helping combat climate change, but first, when it considers new legislation, Congress must provide improved offset market opportunities for forest owners, and incentives for forest management practices that enhance carbon storage, like those included in pending legislation offered by Sen. Debbie Stabenow, D-Michigan, and six of her colleagues.
Such practices include replanting trees, changing timber rotations, and avoiding deforestation. The carbon reduced would supplement the reductions achieved via cap and trade. Congress should consider compensating landowners to undertake these strategies.
Family forest owners like me provide about 60 percent of all U.S. lumber supplies. With the slow housing construction market, and timber prices near record lows, it's a great time to direct forest owners toward conservation-minded forest practices.
Providing forest owners with a modest income stream for carbon-enhancing forest activities is the key. When a developer comes knocking, it helps when a forest owner already has a satisfactory economic incentive in place to nudge that owner toward taking the step that helps the climate and protects forests, instead of, say, clear-cutting the land.
Of course, besides climate improvement, conservation brings the other forest benefits we cherish: clean air, safe drinking water, wildlife, and recreation. I hope that, beyond Copenhagen, our lawmakers, and folks all over the United States, will support the creation of the economic incentives that will help us to attain our nation's environmental goals.
The opinions expressed in this commentary are solely those of Chuck Leavell.