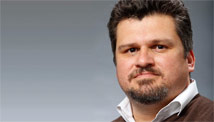 STORY HIGHLIGHTS
David Goldman has been seeking custody of his son for five years
Brazilian family has fought against return of Sean Goldman, Ruben Navarrette says
He says David Goldman exemplifies what a father should be
Navarrette: Too many men run away from the responsibilities of fatherhood
Editor's note: Ruben Navarrette Jr. is a member of the San Diego Union-Tribune editorial board, a nationally syndicated columnist, and a regular contributor to CNN.COM. Read his column here.
San Diego, California (CNN) -- For Father of the Year, my nomination goes to David Goldman. Hands down. In fact, for his persistence in tilting at windmills and challenging a foreign government to regain custody of his son and bring him home, Goldman should be named Father of the Last Five Years.
That's how long Goldman has been fighting the legal system of Brazil to secure the return of his son. Sean Goldman was just 4 years old when his Brazilian-born mother, Bruna Bianchi, took him from the family home in New Jersey to Rio de Janeiro, Brazil, in 2004 for what was supposed to be a two-week vacation, but turned into a long and heart-wrenching ordeal.
Bianchi never returned, but instead remarried and retained custody of Sean in Brazil. She died last year in childbirth, and, since then, David Goldman has been battling her family, the Bianchis.
In most countries around the world, Goldman's argument -- that, as the sole surviving parent, he should be granted custody of the boy -- would probably have carried the day. But, as Goldman soon learned, Brazil is a whole different ballgame. I suspect that the Bianchis knew just enough influential lawyers and judges to spitefully keep this case tied up in the courts for five years.
This week, there was a dramatic development that resulted in the now 9-year-old boy being reunited with his father. The chief justice of the Brazilian Supreme Court, Gilmar Mendes, ruled in favor of Goldman. In doing so, Mendes lifted a stay of another pro-Goldman lower court ruling that was last week issued by a lone Supreme Court justice. Goldman, who has taken countless trips to Brazil in the last few years, had been in Rio de Janeiro for the past week. Waiting. Always waiting.
Meanwhile, the Brazilian attorney general sided with Goldman. Luis Inacio Adams was worried that, if Brazil starts cherry-picking which multinational treaties and international obligations it's going to follow, other countries could reciprocate against Brazilian citizens making similar claims. Adams was also concerned that, if the boy wasn't returned to his father, Brazil could have faced devastating economic sanctions from the United States.
I'm sure I speak for millions of American parents, who have watched this case with bated breath and heavy hearts, when I say: You had better believe it, pal.
U.S. Sen. Frank Lautenberg, D-New Jersey, recently placed a hold on an export tariff bill that would have provided a benefit of $2.75 billion to Brazil. Lautenberg was trying to exert additional pressure on Brazilian authorities to follow their own laws, obey their own court rulings and do the right thing.
This Brazilian telenovela is ridiculous. I tuned in several months ago, and I've been shaking my head incredulously ever since. At the same time, I've been inspired by David Goldman -- and his lonely battle to reunite with his son.
As the father of three small children, there's nothing I wouldn't have done to achieve the same outcome if I were in his shoes. I can say that. And I mean it. But I realize that I'm speaking in the hypothetical.
David Goldman has lived out this nightmare in real time. He's been courageous, dignified and persistent. He didn't quit. Nor should he have, since it's hard to think of a more righteous cause.
My dad likes that old saying about how any man can be a father but not every man can be a dad. He's right, of course. In this country, there are millions of absentee fathers -- both literally and figuratively. There are those who sire offspring and never own up to that fact, denying the responsibilities that come with it. There are also those who, after a divorce, duck out on paying child support. And then there are those who, overwhelmed by the demands of their jobs, put their kids at the bottom of their "to do" lists.
Shame on them and their misplaced priorities. Shame on them all. Let them look to David Goldman for an example of the kind of man they'll never be.
The opinions expressed in this commentary are solely those of Ruben Navarrette Jr.