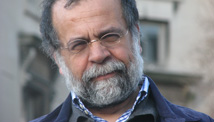 STORY HIGHLIGHTS
The Copenhagen climate talks ended in discord, Hamid Dabashi says
With serious dangers facing the world, Obama needed to exercise bold leadership, he says
He says Obama tried for the middle of the road, as he did in health care bill
Dabashi says president should exercise creative, visionary leadership
Editor's note: Hamid Dabashi, a professor of Iranian studies and comparative literature at Columbia University, writes frequently on politics and world affairs. His Web site is http://www.hamiddabashi.com/
New York (CNN) -- When the United States, China, Brazil, India and South Africa struck an agreement in the United Nations' climate change summit in Copenhagen, many other countries were unhappy with the outcome.
Roberta Alenius, a spokesperson for the European Union presidency, initially denied any unanimous consensus, but the EU eventually wound up supporting the accord.
Lumumba Di-Aping, the Sudanese head of the G77 group of developing countries, has objected that the U.S.-backed proposals would be devastating for the poorer countries. "This is an idea, not a deal," Di-Aping is reported to have said. "Sudan will not be a signatory to a deal that destroys Africa."
The defining tone of the summit was resounding discord. Ban Ki-moon, U.N. secretary-general, called it "not everything we hoped for." A number of developing countries, led by Venezuela and Bolivia, did not even support the deal. At the same time, the full body of 193 countries agreed to "take note of the Copenhagen Accord" without accepting it. Even President Obama acknowledged that the agreement was "not sufficient to combat the threat of climate change."
An editorial in the Financial Times was particularly critical: "An empty deal would be worse than no deal at all, said the White House before Mr. Obama travelled to the Copenhagen summit. As the meeting ended, Barack Obama was calling the Copenhagen accord -- the emptiest deal one could imagine, short of a fist fight -- an 'important breakthrough'. Mr. Obama's credibility at home and abroad is one casualty of this farcical outcome."
Although the summit ultimately agreed to consider this agreement a "first step" and move forward, the fact remains that the two-week summit is a solid indication of a world in dire need of courageous and imaginative leadership -- and a case where President Obama failed to rise to the occasion.
The president not only led the richer nations of the world in manhandling the Copenhagen summit against the poorer countries, but he also fell short of adequately dealing with the potential for global environmental catastrophes.
The unfortunate aspect of Al Gore's book and documentary film, "An Inconvenient Truth" (2006), warning of looming environmental catastrophes, is that it immediately became a political football between liberals and conservatives, as if they lived on two different planets.
They don't -- and when the greenhouse effect worsens, icecaps begin melting more rapidly and the sea level rises, Democrats and Republicans, Capulets and Montagues alike, will have nowhere to run for cover.
What was most unfortunate in Obama's performance in Copenhagen was to see how he extended to the global scene his proclivity for searching for compromise, very much on display in the shaping of the health care bill. A fictional Republican nemesis seems to chase the president anywhere he travels, from Washington to Copenhagen or Israel.
Whatever the merits or maladies of that domestic strategy of trying to achieve a "middle ground," on the global scene the approach is entirely misplaced and positively counterproductive. Far more daring and visionary leadership is required of him. There has not been any recent sighting of the Obama who gave the Philadelphia speech on race in March 2008 that compelled people to compare him to Abraham Lincoln.
At its best, the nonbinding Copenhagen statement would limit global warming to 2 degrees Celsius, which scientists have suggested could prevent catastrophic effects from global warming. But some researchers say even that restraint wouldn't prevent severe effects -- and that the world is on track for an increase of at least double the 2-degree standard by 2100. This is not leadership. This is poor crisis management.
There is much talk of a "post-imperial presidency" or even of a "post-American world" -- and rightly so. But there is a difference between an imperial hubris that has no regard for national sovereignty of other nations and a post-imperial reticence that seems to do too little to safeguard a perilous world.
President Obama still holds much more promise in both domestic and global affairs than his predecessor, George W. Bush, and Obama cannot be singled out for blame in the perfunctory outcome of Copenhagen, when China, India and Brazil were equally if not more culpable.
But millions of Americans poured into the streets last year, campaigned and voted for him to achieve grander goals than he has so far managed to dare or deliver.
Sometimes reaching the "Golden Mean" stands apart from the partisan warfare between Democrats and Republicans, or liberals and conservatives -- it is where history meets a visionary statesman.
The opinions expressed in this commentary are solely those of Hamid Dabashi.